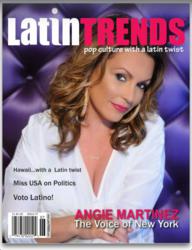 Hispanic Heritage Issue
New York, NY (PRWEB) August 27, 2012
Angie Martinez -- whose illustrious career spans an impressive twenty years and includes forays into radio, music, and television -- is the latest cover star of LatinTRENDS Magazine. She is currently a recurring star on The Style Network's hit show, Empire Girls, where she serves as a mentor to Julissa Bermudez and Adrienne Bailon, who were also interviewed in conjunction with this exclusive cover interview. The 41-year-old Martinez -- who has been the "prime time" DJ on Hot 97 for decades -- helps to guide the girls through the minefield of the industry. Angie reveals insights into her persona, experience in the New York entertainment / music scene and being a woman in a male dominated industry.
Martinez also gave LatinTRENDS an exclusive photo shoot with Scott Church, who -- in addition to his previous cover shoot for LatinTRENDS with Super Bowl winner Victor Cruz of the NY Giants -- has countless works appearing in such magazines as Playboy, Maxim, Cosmopolitan, Men's Health, and Leg Show. The shoot took place at the beautiful, and trendy, Resorts World Casino in Queens.
In addition, LatinTRENDS gives a new twist to the concept of Hispanic Heritage Month by dedicating the first of two issues to Voto Latino in an effort to "get out the vote" amongst the Hispanic populace. In his exclusive, and controversial, interview with LatinTRENDS, entrepreneur -- and Univision radio star -- Fernando Espuelas said that "if every Latino who was eligible to vote would register to vote, and actually participate in the democratic process, Latinos -- and Latinos alone -- would decide the outcome of every election." Miss USA Olivia Culpo -- a stunning brunette & a Boston University student -- writes a guest column about "getting out the vote". Partnering with Voto Latino -- the Hispanic arm of the "Rock the Vote" mainstay -- Culpo is hoping to encourage people to register and vote. Finally, LatinTRENDS features the controversy surrounding the recent congressional race between Adriano Espaillat and Charles Rangel in New York, and shows how it reflects the issues of the national election.
Finally, Hawaii with a Latin twist? There are over 120, 00 Latinos living in Hawaii and they have their own newspaper and Hispanic Chamber of commerce… who knew? Our feature writer Leaura Luciano covers this on her recent trip to Hawaii.
LatinTRENDS is a multi-platform media company that connects with the bilingual, bicultural and acculturated Hispanic community via a magazine, website, e-Newsletter and events.
Its Mission is to entertain, inform and inspire forward-thinking men and women by producing and distributing multi-platform content which covers and celebrates the culture, beauty, diversity and talents of the US Hispanic community. For more information, visit: http://www.latintrends.com
For more information, please contact Bernadette Giacomazzo -- editorial(at)latintrends(dot)com -- 212-851-6164 x 19
###