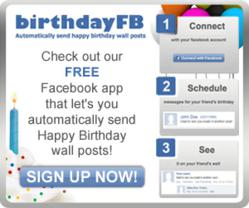 Our happy birthday facebook app is really gaining traction among facebook users that want to be good friends
Kansas City, MO (PRWEB) August 28, 2012
An astonishing number of users are continuing to flock to a very simple happy birthday facebook app that allows users to schedule happy birthday wall posts. birthdayFB is the premier facebook app for automating the posting of happy birthday messages to say happy birthday to your friends.
Founder Geoff Lilienfeld says that he's "thrilled with the word of mouth the app has gotten. Not only do people blog about it and tell their friends, but all these blog posts help the SEO value as well." For those out there that aren't familiar with the term SEO, it describes how search engines view a website. To be literal SEO stands for search engine optimization.
Lilienfeld tells us that early on people were skeptical that the service was taking the human element out of facebook birthday greetings but that in the end they're as personal as any.
birthdayFB doesn't simply send all your friends happy birthday wall posts, rather it allows you to schedule facebook birthday wishes that are personalized and as thoughtful as you'd like to be. While the birthday application does allow users to save messages for future use "blanket" scheduling is not an option and Lilienfeld doesn't intend for it to be in the future.
"It's important that just because we pre-schedule our birthday wall posts doesn't mean that they don't come from the heart." Lilienfeld worries that if the system changed people may have a different view of the warm hearted birthday app.
Lilienfeld tells us that the requests to allow users to fully automate completely pour in but while it is his goal to have 100% user satisfaction, the current method of automatically posting happy birthday messages is working just fine and maintains the very personal feel.
birthdayFB is a completely free birthday facebook app designed to make sure its users never forget a birthday again. The site allows people to schedule customized Facebook birthday posts days, weeks, or even months in advance. birthdayFB was created by Geoff Lilienfeld, s serial entrepreneur known for his previous start-ups which include C&R Granite and iPhonesIntoCash. Lilienfeld publishes a business blog around birthdayFB as well as his other businesses and personal life. His blog can be found at http://geoffL.com