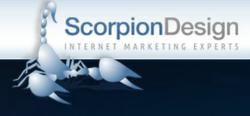 Washington, DC (PRWEB) August 24, 2012
Since being incorporated in 2003, Scorpion Design has gone far in making a name for themselves in the internet marketing industry. Largely focusing on providing website design and marketing to lawyers throughout the nation, they have become known for their award-winning designs, professional marketing teams and web experts. Their work has led to their clients increasing their online exposure with organic rankings translating into actual conversions and increased business.
"We opened our law practice in 2007 and with Scorpion's help we have grown from a solo practice to a three-attorney firm with four paralegals," said Scorpion client Attorney David A. Bogle. "We had to double the size of our office space in 2010 in order to handle the growth of the practice."
This commitment to exceptional service has not just resulted in increased business for their clients, but also resulted in the growth of Scorpion themselves. In fact, they are proud to announce that they have made the Inc. 500 | 5000 list for the second year in a row. This year, they have been named as the 1,180th fastest growing company in America and 74th in Los Angeles, CA, with a three year growth rate of 267%.
This is due largely in part to the increased manpower on their hard working team, having grown in size more than 50 percent over three years. With Scorpion, however, it is not just about size – it's about heart. Led by founder Rustin Kretz, the company has rallied around the philosophy of always delivering more than is promised and taking a "never say never" approach. No matter the time and energy a project will take, they are not deterred. They thrive on challenges and are always willing to tackle each and every one with fervor.
Rustin Kretz had this to say about Scorpion's consecutive second year inclusion on the Inc. 5000 list: "I couldn't be more proud of our team's commitment to our clients and our passion to continue putting out award winning products. This is undeniably the reason for our continued growth. Our attitudes are all client centric and we constantly deliver above and beyond what our clients need."
Over the next year, Scorpion looks to continue its incredible growth – expanding the size of its own team to better serve a wider client base throughout the nation. By bringing on more manpower and continually pushing for a better and better product, the company hopes to continue making the list – moving upward with an even higher growth percentage driven from even more satisfied clients.
"What I respect most about our team is that we want to keep pushing the envelope," said Kretz. "We're more excited about the future than ever before and look forward to being on this list again next year."
Scorpion Design, Inc. is a website design and marketing company based in Southern California. Over the years, their professional team has designed and built over 5,000 websites for clients, making them one of the most experienced companies in the industry. Their work has not gone unnoticed. In fact, they are proud to have won the 2012 Internet Advertising Competition for Best Legal Website, as well as the WebAward for Outstanding Achievement in Web Development from The Web Marketing Association in 2010. If interested in how they can help take your online marketing to the next level, do not hesitate to get in touch with them today. You can give them a call at 866-332-3230 or visit them online at http://www.ScorpionDesign.com.