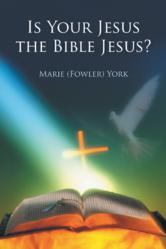 Many realize there are problems with modern Christianity, but few have answers. Marie (Fowler) York takes on the establishment and boldly exposes its failures.
Newark, OH (PRWEB) August 28, 2012
"Is Your Jesus the Bible Jesus?" (published by WestBow Press), a new book by Marie (Fowler) York, reveals how modern Christianity is not true to the Bible – and is actually destroying far too many people who trust their souls to it.
The author, a Biblical scholar for more than 50 years, has scrutinized God's word and come to the conclusion that Christendom is on the wrong track. Her book issues a clarion call back to the Gospel, and the discipleship, of the first-century Church, a cry going unheard in today's churches. "Is Your Jesus the Bible Jesus?" represents a bold challenge to the Christian establishment that doesn't back down from exposing the Church's failures.
"I have watched Christendom as a whole degenerate into a social society that bears no resemblance to the faith that was once delivered unto the saints," says Marie (Fowler) York. Today's Christian faith "is a far cry from that of the early Church … this condition has led to many professed believers who believe in a 'Jesus' who is not of the Bible."
York began her intensive study of the Bible at the age of 17, and has since written a number of scholarly articles and tracts about the Christian faith. She has also composed hundreds of Gospel songs. Now in her 70s, she wrote "Is Your Jesus the Bible Jesus?" as a guide to how believers can get back on track.
"It has been a real labor of love," she says. "Love for God, and love for souls. It is the culmination of many years' study and progress in my own Christian experience. But I felt I just couldn't sit by and let others be led astray."
York is no theologian, but her knowledge of the Bible has been rated at a "ministerial" level. She wrote the book with a "genuine burden for souls – I am not pushing any agenda. My purpose is to help people find a true experience of salvation by believing in the Jesus of the Bible."