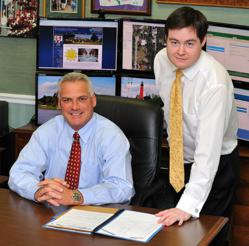 The 'Dynamic Duo,' as they are called, is one of many teams of Realtors at Waterfront Properties who specialize in specific areas of Palm Beach County.
Jupiter, FL (PRWEB) August 26, 2012
The best career move Bob Aiello ever made occurred in 2009, when the veteran Realtor returned to Waterfront Properties and Club Communities after three years of working for another firm.
The savvy sales agent who specializes in Abacoa real estate realized the marketing research, Internet technology and staff support Waterfront Properties employs trumped the competition.
"I returned because of the Internet presence," Aiello said. "Plus, I like Waterfront. Waterfront has been the leading real-estate company in this area for a long time."
When Aiello became part of the Waterfront Properties family the second time around, he joined forces with Travis Thomson, a young Realtor with enviable computer skills. Thomson attributes his PC prowess to the years he worked "for free" at a local computer store.
"I learned everything about computers," he said. "Building, programming, repairing."
His ingenuity with hardware and software helped Waterfront Properties build an omnipotent online presence that attracts buyers from all over the globe. Homes for sale in Abacoa appear on thousands of luxury-real-estate Web sites worldwide.
"Our Website is a lead-generating machine," Thomson said. "It gives us a lot more exposure, and it generates buyers – and sellers, for that matter. We've gotten more closings from Web sites than we ever got calls from newspaper ads. We're in the driver's seat now."
As northern Palm Beach County's No. 1 agency in upscale real-estate sales, Waterfront Properties undeniably is in the driver's seat. Its powerful wheels tread through almost every desirable community, listing Palm Beach Gardens homes for sale and riverfront property in Tequesta. The company recorded its best year in 2011.
"Waterfront is a very organized company," Aiello said. "It's a very structured company. You have to be very disciplined to work here."
One might use the same three adjectives – organized, structured and disciplined – to describe Aiello, a husband and father who follows a daily regimen of his own. He rises at 5 a.m. to a cup of coffee and the newspaper and arrives at the Jupiter office before the sun comes up. After work, he either runs on the beach or works out, and when he gets home, he and his wife spend as much time as they can with their 18-year-old daughter Alex, who is headed to Syracuse University this Fall to play tennis for the Orange.
Aiello's stellar sales numbers attest to his deft dealings with buyers and sellers in the 2,055-acre Abacoa neighborhood. He sold more than $10.4 million worth of property in the year ending June 30, according to BrokerMetrix. His sales record makes him the No. 2 agent in the 33458 ZIP code, following Rob Thomson, the company's managing partner.
After becoming partners in 2009, the dynamic duo quickly became the top-selling team in Abacoa.
"Last year, Travis and I sold more homes in Abacoa than anybody," Aiello said. "The system here works."
Added Travis Thomson: "I think the best part of working at Waterfront is that, because of the way the company is structured, we feel open to share ideas with each other. I get to work with the best agents in the county, and we are all on the same team. We learn from each other."
As a Thomson, he grew up in the world of real estate and joined the family business in 2003. He worked as a marketing assistant, a technical-support guru and a brochure designer. In 2005, he received his real-estate license.
"Working at Waterfront is what has made me who I am today," the young husband and new father said. "Without Joan's and Rob's coaching, I wouldn't be the same."
Joan Thomson founded Waterfront Properties more than 30 years ago, and her son, Rob Thomson, soon became managing partner.
"Bob has lived in Abacoa for a number of years, and Travis has never known anything except real estate," Rob Thomson said. "The fact that they only have listings in Abacoa has really led them to build their expertise. They're specialists. They eat, breathe and sleep Abacoa."
The 'Dynamic Duo," as they are called, is one of many teams of Realtors at Waterfront Properties who specialize in specific areas of Palm Beach County. Specialization is one of the company's hallmarks and has elevated it in the eyes of its clients. Waterfront Properties is a licensed brokerage that has been in business for 30-plus years.
For information, call 561-746-7272 or visit http://www.waterfront-properties.com