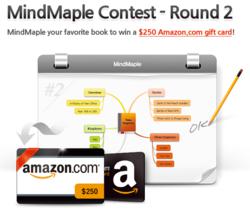 ...and our goal is to help individuals and businesses out there identify the many benefits mind mapping has for both their personal and business lives.
San Francisco, CA (PRWEB) August 25, 2012
To help celebrate the launch of MindMaple Lite and the new pricing structure, MindMaple is continuing with it's 2nd monthly contest for the most creative mind map, with the winner receiving a $250 Amazon.com gift card. According to MindMaple Inc., the goal of these contests are to help spark the creativity of their users, while also encouraging them to apply visual mapping to their daily, personal and professional lives.
The contest runs until September 1st, 2012 with the winner of a $250 Amazon gift card being announced on the company blog, Facebook and Twitter account on September 3rd, 2012. For more information on the mind mapping contest, please visit the contest page at: http://www.mindmaple.com/event/mapping-contest-2nd/
In addition to launching MindMaple Lite, MindMaple Inc. has two other exciting announcements - a new, cost efficient pricing structure and the release of their first iPad product, called MindMaple Viewer for iPad. The new price to purchase a lifetime software license is $49.99. Customers also now have the option to purchase a 1 year subscription to the software for just $9.99. In a statement from corporate headquarters, MindMaple's representatives say the price change is intended to encourage more people to explore the numerous benefits to visual mapping software for both individuals and the enterprise business consumers.
For additional information on MindMaple products, please visit their webpage at: http://www.mindmaple.com/