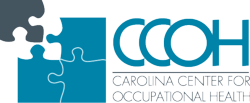 Our average wait time is less than 15 minutes! We will get you back on the road quickly!
North Charleston, SC (PRWEB) August 29, 2012
During the month of September, The Carolina Center for Occupational Health (CCOH) will perform DOT Exams for $35. We have performed nearly 10,000 DOT exams over the past five years and prepared to meet the needs of independent and company drivers.
Federal law requires CDL holders to receive periodic DOT exams by certified medical providers to ensure the ability of the driver to safely operate a commercial vehicle. CDL holders must take and successfully pass a physical and provide proof with a 'Medical Examiner's Certificate'. Trucking companies and truck drivers typically refer to the 'Medical Examiner's Certificate' as a 'DOT medical card'.
CCOH will certify drivers based on the following physical requirements defined by the U.S. Department of Transportation:
1. You must have 20/40 correctable vision in each eye. Glasses or contact lenses are acceptable to correct a driver's vision.
2. You cannot be a diabetic on needle-injected insulin; diabetes controlled through a diet or oral medication is permitted.
3. Your blood pressure must meet the following criteria
a. 140-159/90-99 for 1 year certificate
b. 160-179/100-109 for a 3 month temporary certificate
c. Greater than 180/110 is disqualifying

Prescription medication to control blood pressure is permitted.
4. Your blood sugar level must be under 200.
5. Use of a Schedule 1 drug, amphetamine, narcotic or any other habit forming drug is not permitted.
6. If you have a current diagnosis of cardiac insufficiency, collapse, congestive cardiac failure or any other cardiovascular disease you will be required to provide the Medical Examiner with a stress test (needs to be performed within the last 12 months) along with a release from your physician stating that you can drive a commercial motor vehicle without restrictions.
Other factors or conditions which could prevent you from obtaining the required DOT clearance include: sleep apnea, recent back injury, recent major surgery, a current hernia, or recent workmen's compensation claims.
Call 843-554-1029 to schedule your DOT Exam today or visit http://www.dotexams.com to find out more about the requirements. Company representatives with more than 25 drivers should inquire about our onsite DOT exam services- we will bring a certified medical provider to your work place to get your drives back on the road.
About: The Carolina Center for Occupational Health provides comprehensive occupational medicine services, including: DOT Exams, Flu Shots, Drug Screens, worker's compensation care and onsite wellness services to nearly 300 companies in Charleston, Berkeley and Dorchester counties of South Carolina.
Visit us at http://www.ccohcares.com