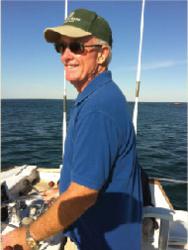 Barry James Dyke is pleased to announce that he will be the guest of John Wells Caravan to Midnight
(PRWEB) August 25, 2012
Best-selling author Barry James Dyke is pleased to announce that he will be the guest of John Wells Caravan to Midnight Weekend Edition of the George Noory Coast to Coast AM show on August 25 Saturday evening/Sunday morning between 2AM and 3AM.
The Saturday host is John B. Wells, a veteran radio host with credits ranging from radio stations to television shows. He has worked at radio stations in Dallas Ft. Worth, Los Angeles, Detroit, New York, Chicago, BBC Radio 1 in London, HIT 95 Berlin, Radio ADO in Paris. The show has become the most listened to overnight radio show program in North America since January 2012. Wells has lent his voice to Oliver Stone's JFK and Talk Radio movies, and has also voiced promos for Discovery Channel, Deadliest Catch and Gold Rush.
John will have Barry J. Dyke on his show to discuss the current state of banking fraud in the United States, of which Dyke is a recognized national expert. This should be eye-opening captivating learning experience for the national's shows audience.
For more information about John B. Wells and the Coast to Coast AM Show with George Noory visit:
http://www.coasttocoastam.com/pages/john-b-wells
http://www.coasttocoastam.com/guest/dyke-barry-james/59115
The show will be broadcast nationally on the Premier Radio/Clear Channel Network as well as Sirius Satellite XMTalk #168. For more information about Barry James Dyke and his latest books visit: http://www.thepiratesofmanhattan.com
Or contact directly at 603-929-7891 or castleassetmgmt(at)comcast(dot)net. Recent videos include, "Its All About the Fundamentals" & "The House Always Wins"
http://www.thewealthchannel.com/videos/its-all-about-the-fundamentals
http://www.thewealthchannel.com/videos/the-house-always-wins