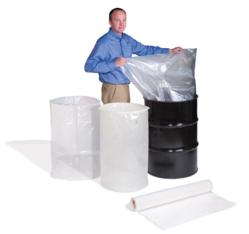 Alpharetta, GA (PRWEB) August 26, 2012
Grayling Industries, an industry leader in flexible industrial packaging and environmental safety technology, is introducing a complete 55 gallon drum liner product offering.
The complete Guardian™ drum liner offering includes:

Flexible round bottom drum liners
Rigid, heavy gauge, round bottom liners
Multi-ply, liquid tight, liners for drums
and economical bag-on-a-roll drum liners.
All of these liners are constructed of either 4 mil or 10 mil engineered polyethylene for strength and durability.
The newest addition to the line is the Rigid Round Bottom Liner, manufactured by attaching a molded 20mil polyethylene lip to a 10mil cylindrical polyethylene body and then sealing the body to a 20mil round polyethylene bottom to form the base of the liner. This liner is self-supporting, sturdy enough to stand on its own and hold its shape during in-drum processing operations. The construction of the liner eliminates pleats and folds that can trap material and hinder complete filling and dispensing.
The Guardian™ drum liners allows drum reuse and recycling due to the barrier created between product and the drum. The liners are designed for packaging either liquid or dry materials in metal, fiber or plastic drums. Custom liners can be manufactured for specific needs such as; chemical compatibility, high temperature applications, oxygen or moisture sensitive products or hygroscopic materials.
For more information on Grayling Industries and Guardian™ drum liners, visit http://www.graylingindustries.com or call Grayling at 1-800-635-1551