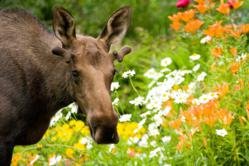 Anchorage, Alaska (PRWEB) August 24, 2012
Icelandair has announced nonstop service between Reykjavik, Iceland and Anchorage, Alaska for summer 2013. The airline plans twice weekly flights between May and September, with the inaugural flight scheduled for May 15, 2013.
The announcement strengthens Alaska's connections to Europe. The flight from Keflavik International Airport, Icelandair's hub near Reykjavik, to Anchorage is about seven hours. Icelandair currently flies to 21 cities in 14 European countries including Great Britain, Germany, Norway, Finland and Sweden. Anchorage is the 10th North American city connected to Europe through Keflavik by Icelandair. Condor also flies nonstop between Frankfurt, Germany and Anchorage.
"Reaching Alaska from Europe will be easier than ever," said Visit Anchorage President and CEO Julie Saupe. "In hours, travelers from across Europe can be amid Alaska glaciers, wildlife and national parks."
Alaska is best known for its pristine natural beauty, and Anchorage is the most convenient starting point for an exploration of Alaska's beautiful glaciers, abundant wildlife, rich Alaska Native culture and vast national parks. Anchorage is Alaska's largest city, but visitors are often surprised when they find hundreds of miles of nature trails and a resident moose population of over 1,700. Alaska's 60 most accessible glaciers are within a day's drive of Anchorage. Road, rail and air connections link Anchorage to four nearby national parks: Kenai Fjords, Lake Clark, Katmai and Denali. Anchorage has the best blend of metropolitan services and the wild adventure for which Alaska is known.
For more information on Anchorage attractions, activities and amenities visit http://www.Anchorage.net.