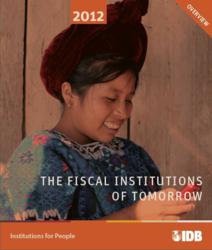 The region is transforming its fiscal institutions to prevent the crises and mistakes of the past and to unlock its potential for development, said Ana Corbacho, Senior Economic Advisor in the IDB's Department of Institutions for Development
Washington, DC (PRWEB) August 25, 2012
Latin America and the Caribbean should build on the considerable social and economic development the region has made in the past two decades by taking additional steps to improve fiscal management as a path to higher productivity, innovation, and growth, according to a new book from the Inter-American Development Bank (IDB).
The publication, Fiscal Institutions of Tomorrow, describes how fiscal discipline enabled many countries to avoid the bouts of volatility, high inflation and devaluations that marked the 1980s and 1990s. The benefits of this discipline were evident during the recent global economic crisis, in which the region showed its resilience and ability to stage a strong recovery.
According to the authors, Latin American and Caribbean countries could cement these achievements if their governments shaped their fiscal institutions in ways that promote economic growth and general welfare, such as by adopting fiscal rules that take into account economic cycles, performance-based budgets, integrated financial management systems, policies to support small and medium-size enterprises (SMEs), and incentives for innovation.