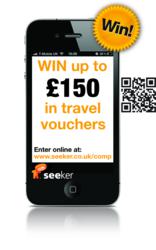 To celebrate its arrival in the UK, mobile app seeker is giving you the opportunity to discover somewhere or something new with its travel competition
London, England, United Kingdom (UK) (PRWEB UK) 26 August 2012
seeker is a new directory enquiry mobile app for the UK. Over the last two weeks its been giving Londoners and visitors to London a chance to win up to £150 in travel vouchers – with over £1,500 worth overall. The last couple of weeks has seen lucky winners scoop up £1,000 in vouchers by entering a simple competition.
What is seeker?
"seeker (http://www.seeker.co.uk) is a directory enquiry app for mobile and web that helps people find your nearest restaurant, cash point, hotel, dry cleaner, taxi or whatever else takes your fancy – and then find your way there with built in maps. seeker can also help you locate a long lost friend, work mate or your great aunt with residential search and if you are based in London (or planning a trip) the app can help you check the availability of your nearest Barclays Cycle Hire station (for Boris Bikes)," states a seeker UK spokesperson.
seeker travel competition
To celebrate its arrival in the UK, seeker is giving UK residents an opportunity to discover somewhere or something new with its travel competition. seeker has been running two weeks of competitions so far with each week giving away £500 to 10 winners who – making a total prize pool of £1,500. "There's one week of prizes left, so make sure you don't miss out on the opportunity," states a seeker UK spokesperson.
Prizes left for the final week
1 x prize of a £150 travel voucher
2 x prizes of a £75 travel voucher
3 x prizes of a £40 travel voucher
4 x prizes of a £20 travel voucher
The seeker team out and about in London
For the last couple of weeks the seeker team has been hitting the streets of London (from Hammersmith to Westminster) handing out travel card wallets and telling the wonderful people in and from one of the world's favourite capitals about the competition and the free seeker app. "You can check out photos from our ventures on Flickr or Pinterest. Don't worry if you missed seeker and you weren't in London, or even if you're not from London - you still have until 9:00am GMT on Tuesday, 28th of August to enter," explains a UK seeker spokesperson.
It couldn't be simpler to enter online
Just head to the seeker website (http://www.seeker.co.uk/comp), and enter via Facebook, Twitter or the simple and quick online form. There are no hoops to jump through, just £500 in travel vouchers left to give away.
Keep up to date
Follow seeker on Twitter @seekerit or on Facebook facebook.com/seekerit to find out what seeker will be up to next.
Download the free app
seeker is free for to download from the Apple App Store for the iPhone (http://bit.ly/seekeriOS) and Google Play for Android (http://bit.ly/seekerandroid) and to use on the web (http://www.seeker.co.uk).
The seeker mobile app is also available in Austria, Belgium, Luxembourg, The Netherlands, Switzerland, United Kingdom (UK) and the USA.
----Ends----
----Notes to editors----
The seeker travel competition is at http://www.seeker.co.uk/comp. Full terms and conditions (T&Cs) are available on the seeker website.
Download the seeker app for:
iPhone from the Apple App Store
Android from Google Play
seeker is written with a lower case 's', including at the start of sentences.
Images are available of the seeker smartphone app including functionality (including Barclays Bike functionality) for Android, iPhone and web upon request.
The media spokespeople for seeker are Dr. Klaus Mapara, CEO and Simon Kiesel Marketing Manager at seeker both are available for interview. Photographs are available of the seeker team.
More information and images are available at http://bit.ly/seeker-media-info or by visiting the Elemental media centre.
About seeker
seeker is a business and residential directory service built specifically for use on smartphones. It is available free on both iPhone and Android devices.
The seeker directory is built from databases licensed by content providers including and DA Services, it is updated and verified by seeker's UK call centre daily and adhere to strict data and information policies. It is one of only very few directory services that caters for both business and residential listings, and is free for users and businesses. seeker offers an upgraded version, seeker plus, for businesses wishing to increase visibility.
seeker is available in Austria, Belgium, Luxembourg, The Netherlands, Switzerland, United Kingdom (UK) and the USA. It was developed by Krick Group, a privately owned and operated directory publisher in Germany since 1946.
Follow seeker on Twitter http://twitter.com/seekerit
Like seeker on Facebook http://www.facebook.com/seekerit
View pictures at Flickr http://www.flickr.com/seekerit
Pin with us from http://pinterest.com/seekerit
----Contact----
Elemental Communications
Tim Gibbon, director
Mobile: +44 (0)7930 375 663
Rachel Hawkes, account director
Mobile: +44 (0)7766 651 244
Telephone: +44 (0)843 208 4592
Twitter: @elementalcomms
Elemental is social from http://www.elementalcomms.co.uk/social