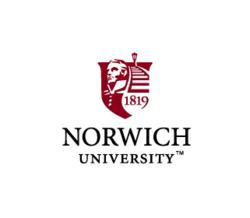 NORTHFIELD, Vt. (PRWEB) August 27, 2012
Norwich University begins classes today for academic year 2012-2013 with 715 entering freshmen that make up the Class of 2016: 510 Rooks (Corps of Cadets recruits) and 205 Civilian students.
For the third year in a row the average SAT scores and grade point averages (GPA) for entering freshmen are up.
"Once again our incoming class has exceeded our previous goals in both quality and quantity," said Vice President for Student Affairs and Enrollment Management Frank Vanecek. "This class is both academically talented and physically and mentally prepared for the challenges that await them."
The class is 77% male; 8.3% (60 Rooks) have secured a three or four-year ROTC scholarship, and 50% come from states outside New England.
Additionally, the number of transfer students has doubled over last year.
Here is the breakout of statistics for the Norwich Class of 2016:
Most popular majors: Criminal Justice; Mechanical Engineering; Nursing and History
Acceptance rate: 58%
Top states:
1. MA
2. VT
3. NY
4. NH
5. CT
6. NJ
7. ME
8. FL
9. PA
10. CA
Norwich University is a diversified academic institution that educates traditional-age students and adults in a Corps of Cadets and as civilians. Norwich offers a broad selection of traditional and distance-learning programs culminating in Baccalaureate and Graduate Degrees. Founded in 1819 by Captain Alden Partridge of the U.S. Army, Norwich University is the oldest private military college in the United States of America and the birthplace of our nation's Reserve Officers' Training Corps (ROTC). http://www.norwich.edu