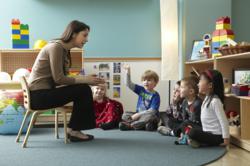 Indianapolis, IN (PRWEB) August 27, 2012
The new school year is just beginning for students across the country. For many young children – and their parents – this often means their first time in a classroom setting. This separation from Mom and Dad can often be scary and many parents express concern over making it a smooth experience for both the child and parent.
The early childhood learning experts at The Children's Museum of Indianapolis provide educational experiences for more than a million visitors each year, many of whom are preschool aged, within museum exhibits and the museum's preschool program. Cathy Southerland, preschool program manager, has witnessed many family separation anxiety concerns and offers these tips for parents to help ensure a successful transition to a classroom:
1. Begin a "count down" calendar so that your child will anticipate the start of school each day / week with excitement.
2. Visit the school with your child; and if possible, take your child to visit with the teacher(s) and tour the classroom together. Many schools have a built in "meet and greet" time already scheduled. Take photos of the teacher, the classroom, and the outside of the school building to show them in the hours/days leading up to school.
3. Learn about the structure of what a typical day in your child's school day looks like. Play "pretend school" with your child, taking turns being the teacher and student.
4. Keep your own attitude positive and affirming. You know that your child is going to reap great benefits from being in preschool; so, try not to let your child see any of the anxiety you may have.
5. Develop a good-bye ritual. Keep it short, loving and consistent each day when you take your child to preschool. Once you have completed your good-bye routine, leave the classroom with a smile, knowing your child is going to have a wonderful time entering this new phase in his life.
Each child is different and there is no specific timeline; but with consistency, the separation process will get easier with time and a positive attitude.
For more information about early childhood learning initiatives at The Children's Museum, visit http://www.childrensmuseum.org.
# # #