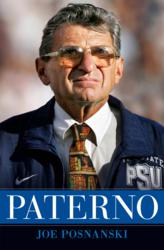 St. Louis, MO (PRWEB) August 27, 2012
The St. Louis County Library Foundation is pleased to present award-winning sportswriter Joe Posnanski for a discussion and signing of his highly anticipated biography "Paterno." The event will take place at Library Headquarters (1640 S. Lindbergh Blvd.) on Monday, September 10, at 7:00 p.m.
The program is free and open to the public. Books will be available for purchase at the event from Barnes & Noble.
The event will be an on-stage interview with KTRS's McGraw Milhaven.
In the spring of 2011, Joe Posnanski moved to State College, Pa., to write the definitive biography of longtime Penn State football coach Joe Paterno. He gained unprecedented access to Paterno, his personal notes and files, his family, colleagues and players, and was alongside the coach and his family as a horrific national scandal unfolded and Paterno was fired. Within three months, Paterno died of lung cancer, a tragic end to a life that was epic, influential, and operatic.
"Paterno" is the fullest description we will ever have of the man's character and career. Following in the tradition of works by Richard Ben Cramer on Joe DiMaggio and David Maraniss on Vince Lombardi, Joe Posnanski brings new insight and understanding to one of the most controversial figures in America in this honest and surprising portrait.
Joe Posnanski is a Senior Writer at the new venture Sports On Earth (http://www.sportsonearth.com). Before that, he was Senior Writer at Sports Illustrated, and in 2011 was named National Sportswriter of the year by the National Sportswriters and Sportscasters Hall of Fame. He wrote about sports for the Kansas City Star for sixteen years and was twice named the best sports columnist in America by the Associated Press Sports Editors. He is the author of four books, including "The Soul of Baseball," the 2007 winner of the Casey Award as America's best baseball book.
Program sites are accessible. Upon two weeks notice, accommodations will be made for persons with disabilities. Contact St. Louis County Library by phone 314-994-3300 or visit http://www.slcl.org.