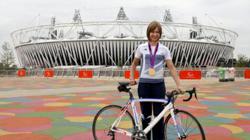 With spaces for more than 7,000 bikes, guided rides and free repairs, there's every reason to get out there and start pedalling
(PRWEB) August 27, 2012
Gold medal cycling sensation Joanna Rowsell today joined London 2012 in calling for spectators to celebrate Team GB by getting on their bikes and pedalling to the Paralympic Games.
Joanna visited the Olympic Park as she urged more people to cycle – download images here.
The Olympic Delivery Authority (ODA) and its partners have made a significant investment to ensure London 2012 is a sustainable transport Games, and are encouraging people to emulate their track and road heroes by doing their own 'victory ride' as they get to and from events.
Spectators can check where secure venue bike parking (tagged and guarded) is located and plan their journeys via http://www.london2012.com/spectators/travel/cycling. They can also check arrival times, download detailed maps and book onto led rides and walks.
Joanna Rowsell, who won Gold in the team pursuit alongside Dani King and Laura Trott, said: "Cycling is a fantastic way of keeping fit, regardless of age or ability. With spaces for more than 7,000 bikes, guided rides and free repairs, there's every reason to get out there and start pedalling. There are a number of excellent routes that have been put in place for the Games and afterwards. We should all cross our fingers that the weather holds out, although I'd definitely recommend packing a poncho just in case. After all, this is Britain!"
Cycling provision during the Paralympics includes:

7,100 secure cycle spaces serving venues (4,700 at the Olympic Park).
Led cycle rides suitable for families and groups.
Police bicycle marking at the Olympic Park on select days.
Free cycle maintenance repairs at the Olympic Park and Brands Hatch.
New maps highlighting the variety of cycle routes around the Olympic Park, and easy to use journey planner offering cyclists a choice of direct, quiet or recreational routes
Hugh Sumner, ODA Director of Transport, said: "Cycling is a fun and healthy way to get around during Games-time. What we saw during the Olympics was a healthy take-up of the bike parking facilities, especially the venues outside of London, with many more choosing to use other facilities nearby. We need to build on that momentum and get people riding during the Paralympics. All London 2012 venues are accessible by bike and free, secure parking is available throughout. Now is the time for people to look plan ahead and start thinking about how they will get to their event."
David Stubbs, Head of Sustainability for the London Organising Committee (LOCOG), said: "This is not just about providing people with an alternative to public transport for Games-time, it's about inspiring the UK to get active. The long-term aim is to change people's mindsets, to show them how simple it can be and what a great alternative way to travel it is."
A total of £10m has been spent on enhancing 75km of East London's paths through the 2012 Games Walking and Cycling Routes, a scheme conceived by charity Sustrans, funded by ODA and delivered by Transport for London (TfL) and partners. Altogether more than £20m has been spent on routes, mapping and services, so that spectators may choose to cycle and walk to the Games.
London 2012 is the first Games with a large scale walking and cycling strategy. The London 2012 Active Travel programme, developed in partnership with TfL, has made it even easier for spectators to walk or cycle to their events, with the introduction of secure services and facilities. The new services and resources include cycle parking at every venue, cycle maintenance, guided walks and cycle rides, new maps highlighting the variety of cycle routes around the Olympic Park, and easy to use spectator journey planner.
Three easy steps to travelling by bike travel to the Paralympic Games:
Use the cyle area of the website to access the London 2012 Spectator Journey Planner and establish the cycle route you will take.
Download a map of your venue through the journey planner, highlighting the cycle parking hubs available. There's no need to book – just turn up on your bike.
Confirm your selection and consider booking a led ride.
Notes to Editors:
Led rides: A series of free led rides to the Olympic Park (Victoria Park Cycle Hub) will run at 7.30am and again at 10.30am every day between 30th August and 9th September, departing from Old Street (bike café) and the Tower of London. Rides to Greenwich Park for the Equestrian events will leave from Leiwsham to Greenwich Park from 30th August to 4th September.
Further rides will serve the Eton Dorney Rowing venue (Big Meadow) between 31st August and 2nd September at 7.30am from Maidenhead Park-and-ride site.
There are also led walks available for free. By taking part in the walks, organised by The Ramblers - Britain's Walking Charity - you can discover some of the interesting sights around the venues, such as London's historic East End, iconic landmarks and waterways, Weymouth's picturesque promenade and magnificent views towards Royal Windsor.
All Ability Programme: An all-inclusive free bike scheme is also being run from Victoria Park on alternate Saturdays by social enterprise Bikeworks. The All Ability Programme, which has been awarded the 'London 2012 Inspire' mark, offers the opportunity for members to have an independent cycling experience whatever their age or ability. A wide selection of equipment and bicycles are available, ranging from scooters, two wheelers, tandems, trikes, recumbents, wheelchair and hand cycles.
London Cycle Guide: TfL's revised London Cycle Guide for the Olympic Park and surrounding area highlights the variety of on and off road cycling routes available, and shows Games-time diversions and temporary spectator cycle parking locations.
Cycle spaces by venue:
Olympic Park (multiple sports): 4,700 spaces located at three hubs – Victoria Gate, Eton Manor Gate and Greenway Gate.
Brands Hatch (Road Cycling): 200 spaces at the venue.
Greenwich (Equestrian): 500 spaces across two hubs.
North Greenwich Arena (Wheelchair Basketball): 200 spaces.
Royal Artillery Barracks (Archery and Shooting):150 spaces
ExCeL (multiple sports): 400 spaces
Weymouth (Sailing): 350 spaces across four sites including a secure option at Westham.
Eton Dorney (Rowing): 600 spaces at Big Meadow
For further information please contact the Government Olympic Communications Press Office.