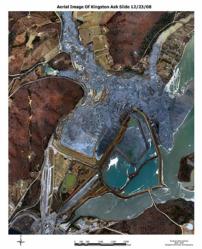 New York City (PRWEB) August 27, 2012
Weitz & Luxenberg, P.C., a leading national mass tort and personal injury litigation law firm, announced Friday that an opinion and order had been handed down in favor of the plaintiffs in the lawsuit involving the 2008 Tennessee Valley Authority coal ash spill. (In re Tennessee Valley Authority Ash Spill Litigation, No. 3:09-CV-54 (E.D. Tenn.)).
Hon. Thomas A. Varlan decided in favor of more than 800 residents of the Tennessee community near Kingston, TN that was devastated in 2008 when a dike burst in a TVA-owned waste containment facility, allowing more than one billion gallons of coal ash slurry -- waste from TVA's Kingston coal-fired electricity generation plant -- to flood into a 300 acre residential neighborhood and waterways.
The spill remains the single largest environmental disaster on United States soil.
The Kingston Fossil Plant had for decades stored coal ash slurry in ponds. On December 22, 2008, a dike on one of these ponds burst, spilling more than a billion gallons of coal ash slurry into the surrounding residential land and waterways in a matter of a few minutes.
During the case, Weitz & Luxenberg and a consortium of other plaintiff firms argued that TVA failed to abide by standards for construction and maintenance of the storage facilities for the coal ash, negligently causing the dikes to be prone to failure, and failed to properly train employees on the maintenance of the ponds and dikes.
Despite TVA's argument that it was immune from prosecution, the Judge agreed with the plaintiffs after a three-week non-jury trial. The opinion held that TVA was negligent in failing to build the storage facilities according to plan, inadequately training its safety inspectors, and improperly maintaining the facility to prevent the dikes' failure.
The firm, which represents 177 residents of the affected community, said that it agreed with Judge Varlan's decision. "We are pleased with the ruling," the firm said in a statement, "and it is apparent that Judge Varlan put a great deal of thought and attention into the opinion.
"TVA was responsible for properly designing, constructing and maintaining a structure that held back millions of cubic yards of coal ash waste that it had accumulated over a period of years. The ruling calls attention to the fact that TVA was negligent in the construction and maintenance of the ponds and dikes and failed to properly train its safety inspectors, with the disastrous result being over a billion gallons of TVA coal ash waste being released into a once-quiet lakefront community."
The opinion and order, according to Weitz & Luxenberg, holds TVA responsible for the damages, with the amount of those damages to be decided at a later phase of trial.
Weitz & Luxenberg commented that the verdict was a fitting step in the process toward recovering from what was a historic environmental disaster.
"The scope of this disaster is massive and the cleanup continues to this day," the firm said. "The cleanup process has turned this once-tranquil community into a massive construction site.
"As a governmental corporation, TVA has certain immunities, but today's ruling shows that not even the Federal government is above reproach when its actions result in such massive harm to an entire community.
"The property owners impacted by TVA's negligence are now one step closer to recovering from this massive disaster. We look forward to presenting our clients' damages in Phase II of the litigation."
The damages phase of the lawsuit is yet to be scheduled.
About Weitz & Luxenberg
Founded in 1986 by attorneys Perry Weitz and Arthur Luxenberg, Weitz & Luxenberg, P.C., today ranks among the nation's leading law firms. Weitz & Luxenberg's numerous litigation areas include: mesothelioma, defective medicine and devices, environmental pollutants, accidents, personal injury, and medical malpractice. Victims of accidents are invited to rely on Weitz & Luxenberg's more than 20 years of handling such cases – begin by contacting the firm's Client Relations department at 1-800-476-6070 or at clientrelations(at)weitzlux(dot)com and ask for a free legal consultation. More information: http://www.weitzlux.com