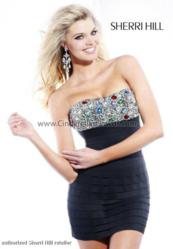 Lilburn, GA (PRWEB) August 25, 2012
Homecoming is here! Prom 2012 was such a great success for Cinderella's Closet girls could hardly wait for Homecoming season to begin: fresh fashion and much more fun! To kick off all the festivities there will be an in store Fashion show Saturday 9/8. High school girls will get to shop all the newest Fall 2012 and Prom 2013 dresses early that have been arriving daily from all the hottest special occasion designers like La Femme, Sherri Hill, Jovani, House of Wu, and more! These exclusive designs will also be featured in the store Homecoming Fashion Show that the chosen Teen Board models will be showcasing in action September 9th 2012 starting at 1 PM. Customers should get used to these faces, these beautiful girls have been exclusively chosen by Cinderella's Closet elite panel of judges to represent the store for this Homecoming season. Customers have been eagerly anticipating the arrival of the new Homecoming dress collections and the time is now! As the saying goes, "the early bird gets the worm" and this case is no different. All throughout prom season, a different designer was featured every week and any shopper who selected a prom dress from that designer's line was automatically entered to win their dress for free. Deals don't get any sweeter than that. At the Homecoming Kickoff event Saturday 9/8 one lucky girl will win her Homecoming dress for free from any designer in the store - that leaves more money for shoes, jewelry, and accessories!
Whether shopping early or last minute shopping for Homecoming dresses, it pays off to shop with Cinderella's Closet. In addition of having the chance to win a free Homecoming dress at the Homecoming kickoff event, customers also have the opportunity to win vouchers for hair, makeup, and more from local businesses so that girls can receive the star studded treatment for their special night. Homecoming is a party from those mid semester blues. Celebrate it in style! Shopping at Cinderella's Closet goes beyond the regular shopping experience. Every girl that walks in the door is treated like a celebrity. Whether shopping for Homecoming, prom, pageants, Quinceanera, or any special occasion the highly trained staff will assist every customer to their highest potential in every step of the way in finding that one-of-a-kind dress that stands out from all the rest.
All year round the staff of Cinderella's Closet has been working around the clock to ensure that each customer leaves the store with such an enjoyable experience that they won't even think of shopping anywhere else again for your special event needs. With a huge selection of over 5,000 dresses from favorites like Sherri Hill l, Jovani, and Tony Bowls just to name a few its like stepping into dress heaven. There is also a vast inventory of shoes by Tony Bowls, Jonathan Kayne, and Helen's Heart who have perfected the essential sexy high heel that fit effortlessly into your expanding wardrobe. Once the shoes are chosen, don't skimp on the accessories! Homecoming is a glamorous affair. The jewelry inventory is showcased in every ballroom of the store, from sparkling teardrop earrings to blinged out bracelets and cocktail rings. Think of Cinderella's Closet as a dream closet away from home!
Join all the fun September 9th, 2012 during store hours from 10 AM – 6 PM with the Homecoming Fashion Show starting at 1 PM. There will be the big unveil of the most coveted Homecoming dress designs for 2012 that customers will now have to opportunity to purchase. During that day enter to win fun prize packages for the big night and most importantly one lucky girl will win her Homecoming dress for FREE! Don't miss all the excitement!