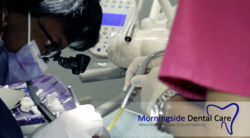 New York, NY (PRWEB) August 27, 2012
At Morningside Dental Care Dr. Donna Williams is pleased to announce the availability of the Laser Assisted New Attachment Procedure for periodontal disease treatment. LANAP is an advanced treatment procedure that uses the PerioLase MVP-7 laser to provide treatment for gum disease. This laser is highly selective and allows healthy gum tissue to remain while at the same time removing diseased tissue and bacteria.
Dr. Williams provides the LANAP gum disease treatment to her patients in Morningside Heights, NY. This is the only protocol that has been cleared by the FDA for periodontal disease treatment. It removes the damaged gum tissue while allowing healthy tissue to remain behind. This results in fewer instances of receding gums after surgery. Because a laser is being used to remove bacteria and manipulate the gums, there is very little pain or discomfort associated with this procedure.
Millions of adults suffer from the affects of gum disease, which can include bleeding gums, receding gums, tooth loss and bone loss in the jaw. However, these dental problems are not the only ones that are linked to this disease. Other serious health problems such as pancreatic cancer, heart disease, diabetes, low birth-weight babies and others have been linked to periodontal disease. Getting gum disease treatment is important, but many people do not receive the treatment they need.
With the LANAP procedure, patients will find that one treatment is usually all that is required to effectively improve their condition. Laser surgery is not very invasive and has minimal pain. Dr. Williams hopes that more patients will come forward for treatment with the advent of this new procedure. For more information on the LANAP procedure, visit nylasergumsurgery.com.
Morningside Dental Care is a general practice offering patients personalized dental care for New York, New York. Dr. Donna Williams started her dental career at Howard University as a Dental Hygienist. She graduated from Baltimore College Dental Surgery/University of Maryland, the first dental school in the world. Throughout her dental school education she received awards and recognition, including maintaining a 4.0 GPA during her initial year, and an award for outstanding research in the Dental Clinical Science Research competition. She completed a fellowship in Holistic dentistry and is one of very few general dentists who have achieved this accomplishment. Having lived in Africa for a year, she returns on a regular basis to volunteer, providing dental service and education to villagers. Dr. Williams is part of one percent of dental professionals providing the most recent FDA cleared laser procedure for gum disease and periodontal treatment. To learn more about Morningside Dental Care and their dental services visit their website at http://www.nylasergumsurgery.com and call (347) 694-4342.