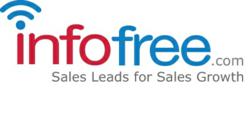 We are excited to welcome Blake and take our sales and customer service teams to the next level.

Rakesh Gupta, President
San Mateo, CA (PRWEB) August 27, 2012
infofree.com, a leading provider of unlimited sales leads, mailing lists, and business credit profiles for only $49.95 per month, announced that Blake Van Gilder has been appointed the Vice President of Sales and Customer Service.
Van Gilder has worked in the database marketing industry for much of his professional life, having spent eight years at infoUSA and Salesgenie. This unique perspective will prove invaluable to infofree.com as it continues to grow in its second year of service.
As VP of Sales and Service, Van Gilder will be responsible for managing a team of sales and customer service representatives as they work to expand and maintain the growing customer base of infofree.com. In just one year of service, the website has had over 10,000 subscribers. infofree.com President Rakesh Gupta hopes to see this number double in the next year.
"We are excited to welcome Blake to the team and take our sales and customer service teams to the next level. He brings a tremendous amount of industry knowledge and experience that will help us grow even faster," says Gupta.
Special Offer
Only $42.95 per month for UNLIMITED sales leads, mailing lists, and business credit profiles. Visit infofree.com and use promo code PR41.
About infofree.com
For $49.95 per month, infofree provides unlimited search and download of sales leads and mailing lists, as well as the unlimited view and print of business credit profiles and email lists of 12 million businesses, 200 million consumers and homeowners, and hundreds of other unique databases. Reach new homeowners, new movers, newlyweds, recently divorced consumers, and new businesses with real time downloading and unlimited search.
The infofree.com content is compatible with the following platforms: Oracle CRM, Salesforce CRM, Microsoft CRM, Nutshell CRM, Goldmine CRM, Sage ACT! CRM, Highrise CRM, Zoho CRM, NetSuite CRM, SAP CRM, Constant Contact, RightNow Technologies, Responsys, Vertical Response, and Dun & Bradstreet.