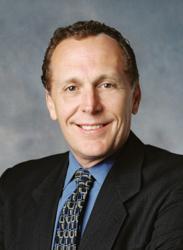 CradlePoint has the right products, solutions, and partners to be poised for accelerated growth.
Boise, Idaho (PRWEB) August 27, 2012
CradlePoint, a leader in 4G/3G wireless networking solutions for distributed enterprises, today announced the appointment of Rick Belluzzo, former President and COO of Microsoft to its Board of Directors effective August 24, 2012.
"I am very pleased to welcome Rick to CradlePoint's Board of Directors," said George Mulhern, CradlePoint CEO and chairman of the board. "During his career, Rick has excelled at leading world class technology companies through all phases of growth and business transformation. As we continue to accelerate our growth at CradlePoint, Rick brings a depth of experience and insight that will be extremely valuable to our company."
Belluzzo has spent his 36-year career in the technology industry, most of it building innovative new product categories and leading companies through change. While at Microsoft, Belluzzo was responsible for guiding the company's business strategy and directing business operations and development, and is credited as the force behind the growth of Microsoft's .NET, XBox, and MSN efforts. Most recently Rick served as chairman and CEO of Quantum Corporation, where he led the company through a transition from a storage device company to focus on corporate data management and protection.
Belluzzo's career in technology began at Hewlett Packard, which he joined in 1975 after earning a BS in Accounting and Finance from Golden Gate University. During his 23 years at HP Belluzzo held several key leadership positions, including vice president of the Printer and PC business as well as executive vice president of the Computer Organization.
"CradlePoint is setting the standard for wireless networking solutions for distributed enterprises," said Belluzzo. "With the advent of 4G and the mainstream adoption of wireless networks in the enterprise, businesses need a solution provider that can help them optimize connections from wired to wireless networks to run their business. CradlePoint has the right products, solutions, and partners to be poised for accelerated growth in this area. I look forward to doing my part to extend the company's early success in the rapidly growing wireless market."
With the appointment of Belluzzo, CradlePoint's board now consists of six members, including Alan Hall, managing director of Mercato Partners and founder of MarketStar; Gerry Langeler, managing director at OVP Venture Partners and founder of Mentor Graphics; George Mulhern, CradlePoint CEO and chairman of the board; Gary Oliverio, a CradlePoint founder and former CTO, and Jim Straight, former senior vice president at Verizon Communications.
About CradlePoint
CradlePoint is the global leader in 4G/3G networking solutions providing business grade, secure connectivity to distributed enterprise, small business and mobile customers. With support for over 350 modems on more than 70 different carriers, CradlePoint defines excellence in connectivity. Specializing in failover, machine-to-machine (M2M), and primary connections, CradlePoint's solutions are purpose built for PCI compliant networks. CradlePoint is the first to pioneer and fully enable high-speed LTE in its solutions to maximize the potential of the cloud for businesses worldwide. CradlePoint is a privately held company in Boise, Idaho. Learn more at CradlePoint.com.