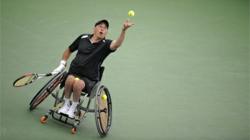 I'm absolutely blown away to be selected as the British flag bearer for the Opening Ceremony. It was a huge surprise when I was told and I feel it is a very great honour
(PRWEB) August 26, 2012
Two-time Paralympic wheelchair tennis gold medallist Peter Norfolk has been chosen as ParalympicsGB's flagbearer for the London 2012 Games' Opening Ceremony on 29 August.
The 51-year-old, who plays in the quad category, will lead out 287 British athletes at the Olympic Stadium next Wednesday, when the Paralympic Flame will be lit to signify the start of the 14th Games in history.
"I'm absolutely blown away to be selected as the British flag bearer for the Opening Ceremony. It was a huge surprise when I was told and I feel it is a very great honour," said Norfolk, affectionately nicknamed 'The Quadfather'.
"I can feel the excitement is really building as everyone is talking about the Games and getting behind the athletes wishing them luck.
"I'm very humbled to lead in the ParalympicsGB team that I'm sure can make Great Britain very, very proud."
ParalympicsGB Chef de Mission Craig Hunter congratulated Norfolk on his achievement.
"Pete has been selected following a vote from his fellow team-members so this is true recognition of his outstanding sporting achievement," he said.
In addition to his two gold medals won in Athens 2004 and Beijing 2008, Norfolk has a bronze from China as well as a silver in Greece.

For all your latest news ahead of the 2012 Paralympics, follow @C4Paralympics on Twitter and like the C4Paralympics Facebook page