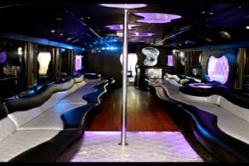 (PRWEB) August 25, 2012
Pacific Limo Bus, a luxury transportation service provider based out of San Diego, has recently added the ultimate San Diego Party Bus to its fleet. Dubbed the 50-passenger Lava Party Bus, the vehicle comes out just in time for back-to-school events.
The Lava Party Bus is ideal for homecomings, Friday night high school football games and winter formals. The Lava Bus, like all of Pacific Limo Bus' vehicles, exceeds all industry standards and has just about every feature in the book.
The Lava has a bathroom, 5,000 watt sound system and seven flat screen HDTVs to get your party going. Inside of this one-of-a-kind luxury vehicle there's also a dancer pole, hardwood floor and disco lights. The seats are even adjustable if you wish to make the dance floor larger.
Aside from school-related events, the Lava Bus is also perfect for weddings, Bar/Bat Mitzvahs and regular nights out on the town. The unique Party Bus includes a stand-up wet bar, rear champagn bar, coolers behind the seats and champagne holders.
The Pacific Limo Bus fleet, which also serves Los Angeles, is loaded with Limo Buses, Party Buses and Limousines.
One of the company's most popular features is the pick up and drop off plan, where customers literally get picked up and dropped off at their intended destinations without having to pay fees while a vehicle sits in the parking lot. The pick up and drop off plan works well with any San Diego Limo Bus for occasions such as concerts, Sweet 16s and bachelorette parties.
For more information on Pacific Limo Bus or Limo Bus San Diego and Party Bus San Diego, please visit partybusesandlimos.com.