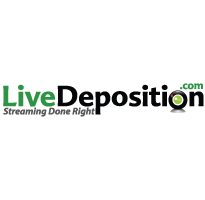 I believe the growth of LiveDeposition.com and our appearance at key events such as this one are the core to us building long lasting relationships with our clients and reporters.
Sherman Oaks, CA (PRWEB) August 27, 2012
Over 800 court reporters and firm owners recently gathered in Pennsylvania at the Philadelphia Marriott Downtown to attend the National Court Reporting Association's (NCRA) 2012 Annual Convention. As the convention doors closed on Sunday, August 12, 2012, LiveDeposition.com, a global provider of web-based realtime streaming deposition solutions and exhibitor at the annual convention was the hot product being talked about by show attendees.
Released in mid-2011, this was LiveDeposition.com's second year attending NCRA's Annual Convention. According to Steven Genter, Director of LiveDeposition.com, "In the short time this technology has been available, LiveDeposition.com has already gained the seal of approval from many agency owners and reporters. By attending the NCRA Convention for the second year in a row we were able to solidify our presence within the industry."
There was a lot of positive energy radiating throughout the show in regards to LiveDeposition.com. Visitors to the booth were able to meet with LiveDeposition.com team members and chat about the benefits of using the cutting-edge web-based streaming deposition product to provide their clients with a way to remotely attend depositions. In addition, visitors were treated to live demonstrations of the product, allowing them to get a better feel for LiveDeposition.com's sleek, easy-to-use customizable interface.
Those who did not have a chance to visit LiveDeposition.com's booth in the exposition hall, as well as those who wanted more information, were invited to attend a seminar on Sunday, August 12, 2012 given by Mr. Genter. The goal of the seminar was to provide a better understanding of how the product works from a host and attendee standpoint. Seminar attendees were invited to bring their iPhone's, iPads or Android enabled tablets and smartphones to follow along using the LiveDeposition.com mobile apps.
When asked to summarize his experience at NCRA's 2012 Annual Convention, Mr. Genter stated, "I believe the growth of LiveDeposition.com and our appearance at key events such as this one are the core to us building long lasting relationships with our clients and reporters. I'm pleased to have attended the 2012 NCRA Convention. I look forward to continuing to support the NCRA's dedication to technology and advancement of the industry."
The LiveDeposition.com team looks forward to attending many more of these conferences in the future and is excited to increase the role they will play in years to come.
About LiveDeposition.com
Headquartered in Sherman Oaks, CA, LiveDeposition.com is powered by MegaMeeting.com; a long time resident of the video and web conferencing industry. Through their cutting-edge technology, LiveDeposition.com provides the Legal Industry with web-based deposition and video conferencing solutions. Being exempt from typical download and installation requirements, LiveDeposition.com has proved itself to be a hassle-free way to stay connected, allowing court reporting agencies, court reporters, paralegals, industry experts and legal teams to streamline the litigation process and conduct real-time depositions and online meetings. LiveDeposition.com offers mobile apps for iOS and Android users, making its state-of-the-art solutions easily accessible via iPhones, iPads, as well as all Android enabled tablets and smartphones.
For more information on LiveDeposition.com please visit http://www.livedeposition.com or call 888.337.6411.