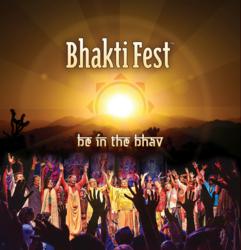 The four-day celebration has grown exponentially in its first four years, from a single annual event to 2012's three massive gatherings.
Boulder, Colorado (PRWEB) August 28, 2012
Bhakti Fest debuted in 2009 -- in the southern California desert on the doorstep to exquisite Joshua Tree National Monument -- and is the world's one and only non-stop, 24-hours-a-day Kirtan music and yoga festival. In conjunction with this year's event (September 6th–9th), White Swan Records will release BHAKTI FEST, a two-CD set of live recordings captured at previous editions of the festival.
The four-day celebration has grown exponentially over the past several years, from a single annual event to today's three massive yearly gatherings: two -- spring's Shakti Fest and late-summer's Bhakti Fest-- staged on a 450-acre site in scenic Joshua Tree, and a third -- Bhakti Fest Midwest -- that debuted this year in the ever-progressive-minded city of Madison, Wisconsin. Numerous newer, similar festivals have sprung up around North America -- and beyond -- in the wake of Bhakti Fest's success, but it remains hands-down the pre-eminent event of its kind in the burgeoning international kirtan and yoga scene.
The ongoing mainstreaming of interest in yoga and meditation music nationwide has helped establish Bhakti Fest as a major "destination" festival, drawing fans from across North America and from as far away as Australia. Most Bhakti Festgoers camp on-site, creating an immersive community of shared commitment and passion. The experience offers attendees a variety of experiences including:

around-the-clock concert performances by widely popular performers
classes & workshops with master yoga teachers, e.g., Shiva Rea, Bryan Kest and Saul David Raye
various devotional rituals and group activities
eco-friendly shopping
organic, vegetarian foods
a family-friendly, drug- and alcohol-free environment
In tribute to the popular gathering, White Swan Records – the leading music brand in the yoga world – presents BHAKTI FEST, a double-disc live compilation that showcases some of the most enduring artists working in the ecstatic chant and trance genres.
These include beloved kirtan torchbearers Jai Uttal and David Newman (aka Durga Das) as well as rising stars on the scene, such as Santa Monica's Govindas & Radha, New Orleans-based Sean Johnson & the Wild Lotus Band, Sita & The Hanumen. Prema Hara and C.C. White – who set the chant world on fire with her astonishing debut album, THIS IS SOUL KIRTAN, and who contributes a mantra in reggae mode on the album.
Bhakti Fest next takes place September 6-9 in Joshua Tree; the album will be out on September 18th.
*****************
Since its launch in 1991, Boulder-based White Swan Records (http://whiteswanrecords.com) has remained steadfastly attuned to the creative listener's sensibility, developing an alluring, diverse catalog of music styles including Sanskrit mantra, kirtan Americana, Indo-Jazz Fusion, traditional Tibetan chant, Zen moods, Afro-Celtic fusion and Sufi melodies. The label's catalog includes work by best-selling mantra performers Deva Premal & Miten, kirtan Americana troubadour David Newman, acclaimed Turkish Sufi multi-instrumentalist Omar Faruk Tekbilek, devotional pop singer Donna De Lory, UK world fusion activists Baka Beyond, flute maestro Gary Stroutsos, Canadian folk/kirtan singer-songwriter Brenda McMorrow and Tibet's Gyuto Monks produced by Mickey Hart of the Grateful Dead.