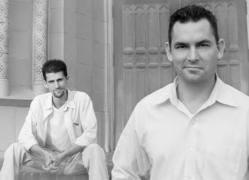 Since users curate the content on the Show Prep section of our website, the show is a lot more like a collaboration and a lot less like a political screaming match.
Keene, NH (PRWEB) August 25, 2012
As radio giants topple and the industry as whole is struggling, the hosts of Free Talk Live continue to amass an enormous following. With hosts less than half the age of reigning radio kings, an interactive approach to curating content and a mindset that moves beyond bipartisan restraints, Free Talk Live is changing the way we listen to radio – and they're thriving because of it.
Currently the program airs on 114 radio stations coast-to-coast in markets as large as New York City, and up to 250,000 episodes are downloaded by listeners each month. That's no small feat in a world where other shows are rapidly losing listeners, and it's just one of the reasons Talkers Magazine's Michael Harrison gave Free Talk Live hosts Ian Freeman and Mark Edge top billing on his list of the Top 5 Up and Coming Radio Personalities, as reported by The Hollywood Reporter.
Why is the show so popular? To understand, visit FreeTalkLive.com and you'll notice immediately that this isn't your typical radio show. That's because the programs focus on audience interaction – users are encouraged to submit "show prep" ideas. These submissions undergo user review as other listeners comment and vote on which stories they'd like to hear discussed on the show. Another interesting distinction between Free Talk Live and other talk radio shows: almost all of the site's features - including podcast downloads of every show recorded over the last six years - are available for free, instead of hidden behind a paywall.
There are a wide variety of topics discussed on the Show Prep section of the Free Talk Live site, ranging from police brutality to religious freedom to gay rights and everything in between. The stories that generate the most buzz and user votes are the ones that earn coverage – a revolutionary approach in a world where other hosts seem content to hammer the same points, regurgitate national news stories or push a political agenda through sensationalized coverage. Co-host Mark Edge thinks the way the show chooses its content plays a big part in its success.
"These are the stories people want to hear about," he says. "Since users curate the content on the Show Prep section of our website, the show is a lot more like a collaboration and a lot less like a political screaming match."
It also doesn't hurt that the hosts are considerably younger than radio mainstays like 61-year-old Rush Limbaugh and 70-year-old Michael Savage, who are rapidly losing touch with younger generations. At 41- and 32-years-old, Edge and Freeman are members of the generation they're speaking to.
Unlike other shows that pander to a one side of the political spectrum, Free Talk Live isn't geared towards democrats or republicans. It's "liberty-based" and focused on issues that affect listeners across party lines. According to co-host Ian Freeman, removing the bi-partisan approach creates a far more welcoming environment for listeners. "Our listeners feel involved because we're talking about their stories and using their language. We aren't just reciting one party's talking points."
The conversation doesn't stop there, either. With 24/7 streaming features, active discussion boards, engaging social media updates, chats and polls, the show doesn't end when the hosts leave the studio. Listeners are free to tune in when they can on the platform of their choosing and to interact how and when they want. It's a system that adapts to the needs of a digital generation, and the approach might just be radio's saving grace. "Today's listeners are tired of being talked 'at,'" says Freeman. "They want to be a part of the discussion, and Free Talk Live is where that discussion happens."
Free Talk Live airs live seven days a week, 365 days per year from 7 PM to 10 PM (EST). Archives of previous episodes can be accessed via their Soundcloud page.