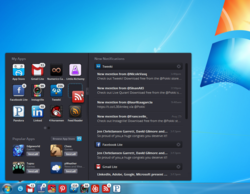 Your PC doesn't have to suck.
San Diego, California (PRWEB) August 30, 2012
SweetLabs Inc. today announced that Pokki, the app platform for the PC, has surpassed 1 million monthly active users. Additionally, Pokki is coming out of beta with a major product update, introducing a new apps menu for centralized organization, launch, and discovery of Pokki apps, a notification center for the latest updates from your favorite apps and games, and new apps including Angry Birds, Pandora, and Pinterest.
"The Pokki user base has doubled every month for the past six months and we're proud that we now have a million monthly active users who agree that a PC can be just as fun and convenient as a smartphone or tablet," said Darrius Thompson, co-founder and CEO at SweetLabs. "Microsoft, with Windows 8, seems to believe that forcing users to adopt a touch interface will modernize the PC experience but we beg to differ. This major milestone and release proves that the 1.3 billion PC users can enjoy a modern app experience, naturally built for the device they spend the majority of their waking hours on, with their trusty keyboard and mouse. Your PC doesn't have to suck."
Pokki enables PC users to have one-click access to their favorite apps like Facebook, Gmail, Instagram (Instagrille), and Twitter (Tweeki), with real-time notifications on the desktop. Hundreds of free apps and games are available for download in the Pokki app store today. The Pokki platform makes it easier than ever for developers to create and distribute desktop apps using standard web languages like HTML5, with early developers seeing 3-5X increases in engagement and retention from Pokki desktop apps when compared to traditional websites trapped in the browser.
With the product update today, users will have access to more convenient notifications for their favorite apps, in a centralized notification center as well as through app-specific notification banners and badges. The new apps menu will make it easy for users to manage and organize their Pokki apps as well as discover and download new Pokki apps with one click. Additionally, new apps like Angry Birds, Pandora, and Pinterest are now available in the store, and were built using a new app packaging technology that Pokki will be providing to developers soon, making it easier than ever to turn a web app or game into a Pokki desktop app.
Pokki and Pokki apps are available for free download at Pokki.com, and compatible with Windows 8, 7, Vista, XP with Mac support coming soon.
About SweetLabs
SweetLabs is the startup behind Pokki and OpenCandy. Pokki is an app platform that brings your favorite apps and games to the PC, with all of the fun and convenience of today's mobile and tablet app experiences. OpenCandy is a high-quality advertising network for apps on your PC, having powered user-friendly app recommendations in over 900 million installs to-date. SweetLabs was founded in 2008 and was recently awarded the "5th Best Place to Work in San Diego" by San Diego Business Journal. SweetLabs is backed by Bessemer Venture Partners, Google Ventures, Intel Capital, and O'Reilly AlphaTech Ventures.