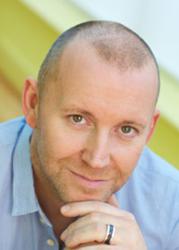 (PRWEB UK) 26 August 2012
The Linden Method, Charles Linden's world renowned anxiety disorder elimination program has been released as an App. The highly acclaimed program The Linden Method – that has been used by over 150,000 sufferers worldwide, with a success rate in excess of 97% - is now available as an app for the iPhone, iPad and iPod Touch from Apple App Store - the first product of its kind on this platform.
This new and unique The Linden Method - Cure Anxiety app is being launched and Charles Linden will be presenting the application to medical professionals over the next months.
No other application is available for the iphone, ipad or ipod Touch that addresses anxiety conditions and Apple's growing interest in medical applications for their technology should ensure that The Linden Method App will get to many of America and Europe's 100 million plus anxiety disorder sufferers.
Approximately 1 in 4 people suffer from high anxiety conditions including panic attacks, generalized anxiety disorder (GAD), agoraphobia, obsessive compulsive disorder (OCD) and post traumatic stress disorder (PTSD); The Linden Method app will show sufferers how they can quickly and permanently eliminate all of their high anxiety and symptoms quickly.
Charles Linden, CEO of The Linden Method commented:
"This is what our clients and all anxiety sufferers have asked for; a simple application they can carry with them at all times, containing everything an anxiety sufferer would need to stay calm, prevent panic attacks, stop obsessive thoughts and permanently eliminate their high anxiety condition. I only wish I had been able to use the Linden Method App when I was anxious, it would have saved many wasted years."
Charles Linden, his team of psychologists and counselors and David Roach of Creative Class Software, have developed the The Linden Method App utilizing video, audio and some interesting new techniques which can be used by sufferers to stop panic attacks in their tracks.
The Linden Method app contains unique video footage of Charles Linden talking you through the curative process and powerful techniques that create the reversal and total cure of all high anxiety conditions; and yes, a cure is possible, despite the psychological and medical professions claiming otherwise.
Charles Linden says: "I have seen The Linden Method work too many times now to doubt its effectiveness. There is only one cure for high anxiety conditions and my program has proven, time and time again, to provide that process… it's the only program of recovery in the world to do this and I know it works every time… in fact, it can't fail if done correctly."
Charles Linden's Panic Eliminator has been used by over 150,000 people worldwide and has been redeveloped as part of the Linden Method App. Charles and his team have also developed the 'BreathEasy' utility, which will help sufferers to quickly address disturbed breathing patterns during high anxiety; two of the many techniques and devices this ground-breaking app provides.
Every The Linden Method - Cure Anxiety app user will also and uniquely, have access to direct support with Charles' team of qualified support specialists should they need reassurance or assistance with any aspect of their recovery.
Research psychologist, Dr Francis Teeney of Queen's University Belfast commented:
"The Linden Method provides a correct psychological explanation of your condition, reassurance and clear, structured guidance and is definitely a programme for recovery. I personally recommend the Linden Method wholeheartedly. Charles' qualified staff and his and his organization's reputations are testament to the level of respect gained through constantly high results and many thousands of success stories. In my opinion, you have nothing to lose by trying this particular psychologically supported recovery programme but you certainly have everything to gain."
Ex anxiety sufferer Lindsey Burton who used the Linden Method Program to cure her high anxiety commented:
I told my doctor I'd eliminated my anxiety and he was like, 'But how?' I told him to have a look at the Linden Method website to find out! I just want to enlighten people of this amazing Method because I have 100% faith in it and myself, which is all you need! Thank you to Charles and the support staff!"
Lindsey Burton
The Linden Method - Cure Anxiety app is available from the App Store, Itunes for the iphone, ipad and ipod touch or at http://www.thelindenmethodmobile.com