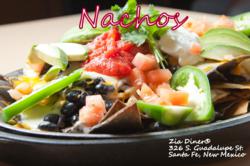 Santa Fe, New Mexico (PRWEB) August 24, 2012
Santa Fe restaurant favorite for locals and visitors the Zia Diner and Photography by Solaria, an established professional photography studio from Albuquerque, New Mexico, have completed a recent photography project which focused on photographing most of the dishes and desserts on the company's restaurant menu. The photos were shot both inside the bar area of the restaurant and outside on patio. The results are fantastic, marking a broad statement for both companies, showcasing the delicious dishes and desserts served by the Zia Diner, and the amazing talent and skill sets of Photography by Solaria owner, Angela Ollison. Zia Diner is a featured business on Santa Fe on-line visitor guide SantaFe.com.
The photos will be used by Zia Diner for marketing the company in a variety of different ways including adding galleries to the company's website, using them on the company's blog, posting them to the company's Facebook fan page and for the company's regular monthly press releases. The photographs give the Zia Diner the opportunity to visually exhibit the excellent menu offered by the company on the web and in print. The company's website has several pages, but most of page views on the site by visitors are the menu, including breakfast, lunch/dinner, drinks and desserts. The company is looking forward to offering their new photo gallery to website visitors and showcasing the different dishes offered by the restaurant.
Angela Ollison, the owner of Photography by Solaria, has been a sought after top photographer in Albuquerque for several years. The company specializes in product and wedding photography. The company's special product/food photography skill sets are very evident as can be seen by viewing the menu galleries on the Zia Diner website.
Presenting the Zia Diner's menu items for customers to preview on the company's website before they come dine have been a goal of the company for some time and now thanks to talents of Photography by Solaria it has been met.
About Zia Diner:
The Zia Diner is a true Santa Fe icon, now celebrating 25 years as a part of this community.
Serving upscale, down home comfort food, the Zia Diner serves updated renditions of diner classics – think Green Chile-Pinon Meatloaf – along with an eclectic menu of southwestern and international comfort food. This high-energy restaurant and bar prides itself on its professional and friendly service and exceptional food.
The Zia uses grass-fed, additive-free beef, free-range and additive-free chicken and eggs, and local, organic, fair-trade Agapao Coffee. Their bread the company serves is delivered daily from Fano Bakery in Albuquerque. All desserts including pies, cakes, cookies and pastries are baked from scratch in the Zia Diner kitchen.
Contact:
Beth Koch
(505) 988-7008
326 S. Guadalupe St
Santa Fe, NM 87501
http://ziadiner.com
About SantaFe.com
SantaFe.com provides locals and visitors to Santa Fe alike the most current interactive platform for events, music, arts, business, dining and lifestyle. SantaFe.com is a division of Hutton Broadcasting, located at 2502 C. Camino Entrada, Santa Fe, NM 87507
Contact Information:
Scott Hutton
SantaFe.com / Hutton Broadcasting
http://www.santafe.com
(505) 471-1067 (Media inquiries only, please)