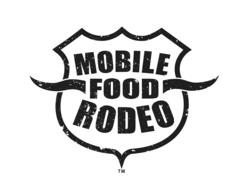 Track Em. Catch Em. Eat Em.
Seattle, WA (PRWEB) August 28, 2012
Seattle, home of the largest mobile food truck festival in the United States, the Mobile Food Rodeo returns for another sizable serving of gourmet food trucks hosted in South Lake Union on Saturday, September 15th near Denny Park from 12-8pm
The Northwest's largest street food festival attracted over 15,000 people this past May for their spring tasting event with 36 food trucks and live music. Packed with more trucks, live music, beer gardens, plus kid's activity area; the Mobile Food Rodeo expands to deliver more food choices by some of the most innovative, "chef-preneurs" serving curbside daily.
This year's truck line-up includes Skillet, Big Food Mobile, Molly Moon, The Grilled Cheese Experience, Lumpia World, Contigo, Jemil's Big Easy, Lucky Devil Donuts, Buns on Wheels, Box on Wheels, Crisp Creperie as well as the first chance to taste the offerings of the highly anticipated Xplosive food truck before their October debut.
This year's festivities welcomes Chef of Honor, Roy Choi of LA food truck fame , KOGI in Los Angeles and voted Food and Wine Magazine's Best New Chef in 2010, a first for any food truck chef. Choi will be judging as part of the Rodeo's 2nd Annual Wagon Awards that highlight categories for the best food truck, best side dish, dessert, and signature dish by some of Seattle's top chefs and personalities.
Rodeo Organizer, Ryan Reiter says "It's a great pleasure to invite a legend among the food truck culture like Roy, sharing his experience, adventures and talents in Los Angeles to South Lake Union; I can't wait to see what he is cooking up for us to taste".
Catch Roy Choi live at the Rodeo for a limited engagement event; where he is creating a signature 3 item sampler plate, paired with a cocktail followed by private meet and greet and conversation with Roy. Tickets are $49 advance and $65 at the door for this exclusive limited one of a kind event.
The fun starts at 10am for the VIF (Very Important Foodie) Experience that allows 500 attendees to eat with minimal lines for a two hour period, closed to the public
VIF ticket holders receive early admission, an eco friendly reusable grocery bag, limited edition lanyard and badge, collector's pin, plus a $15 online voucher for food courtesy of LEVEL UP on any participating food trucks for two hours event.
The Mobile Food Rodeo opens to the general public at noon until 8pm and admission is free. Full listing of participating food trucks, ticket info and additional information can be found at http://www.mobilefoodrodeo.com.
2012 FOOD TRUCK LINE UP
Maximus Minimus | Where Ya At Matt | Skillet | Charlie's Buns | Xplosive | Veraci Pizza | Big Food Mobile | Jemil's Big Easy Happy Grillmore | Grilled Cheese Experience | Street Donuts | Molly Moon Ice Cream | Lumpia World | Chopstix | Off the Rez | Snout & Co. | Kaosamai Thai | Lucky Devil Donuts Athena's | Curry Now | Contigo | Fusion on the Run | Box on Wheels | Trophy |Cupcakes | Crisp Creperie | Tuscan Stone Pizza | My Chef Lynn | BUNS | Street Treats | Tokyo Dog Hot Dog Stop | Barrigna Llena | Bistro Box | Jerk Station | Parfait | Raney Bros | Dante's Inferno Dogs | Hallava Falafel | Urban Nomad | Rainy Day Gourmet | Caravan Crepes | Nomad Curbside | Flair Taco | Slate Coffee | Real Falafel King | Los Chilangos
ABOUT GUEST OF HONOR, ROY CHOI
Roy Choi is a classically trained chef from Los Angeles who cut his teeth in the kitchens of Le Bernardin, the Embassy Suites, and the Beverly Hilton before re-discovering his roots as an Angeleno and channeling his soul into a taco that tastes a lot like LA. After launching Kogi BBQ in 2008, Choi fused the flavors of the city with Hawaiian-style picnics and opened A-Frame; Venice's Sunny Spot followed in 2011.  Choi currently is working on his first book, Spaghetti Junction: Riding Shotgun with an LA Chef, a memoir/cookbook that chronicles his rough and tumble journey through the streets of LA, with recipes for life along the way. It will be published in 2013, by Anthony Bourdain books. 
ABOUT THE MOBILE FOOD RODEO
Produced by Piranha Blonde Creative, The Mobile Food Rodeo is the largest mobile food truck festival in the United States showcasing over 45 local food trucks in the northwest with over 17,000 people attending last May in Fremont.
The program includes live music, charity beer garden, and cooking demonstrations by some of Seattle's top chefs and local personalities.
An annual event, the next Mobile Food Rodeo returns to South Lake Union on Saturday, September 15th with 45 food trucks. Admission is free to the general public and runs from 12pm-8pm.
For more information on truck line-up, tickets and more, visit our website at http://www.mobilefoodrodeo.com