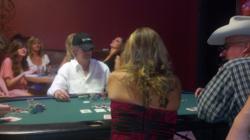 The video tells an authentic poker story about a poker tourney that starts at a man-cave in the middle of the woods and finishes with the Final Table at a local club...
College Station, Texas (PRWEB) August 27, 2012
The Texas Poker Store's production of the music video, "I May Be Bluffin", with music and lyrics by Randy Pavlock and Chief Dealer, Jim Paris, and sung by Pavlock has now been completed. The video, produced and videographed by Kyle Netterville and directed by Netterville and Paris is now in post-production, with a release date set for September.
"We had a great time during the three shoots, including two in an amazing barn/man-cave out in Hearne, Texas, and the last one at a local nightspot in College Station, Texas. It was amazing how many friends came out to support us and be part of the video. Everyone who came to see the final table sequence got to be a "fan" of the players for the night," said Paris.
The final four players consisted of Paul "My House My Rules" Marvin, Troy "T-Licious" Davidson, Randy "The Real Deal" Pavlock and Jim "Chief Dealer" Paris with the dealer played by Gretchen Farrar. Whitney "Wildcat" Brandl, Hannah "Raisin Hell" Hasha, Camille "Cami" Butler, Allison "Alli" Glover, and Kelsey "Kel" Stanislaw were cast as the lovely young ladies who danced and rooted for their men. These beautiful models were provided by Hunter Artz of "Photos by Hunter Studios".
"Of course, we now have hours of editing to get through all the footage we shot before we can release "I May Be Bluffin'" to the world," Paris states. "The video tells an authentic poker story about a poker tourney that starts at a man-cave in the middle of the woods and finishes with the final poker table at a popular local club, so we know it will appeal to the millions of poker players out there. On the other hand, with Pavlock's gritty country-rock sound on the title song, along with those gorgeous young women, I believe it will also have universal appeal.
" I'm not going to tell you how it went at the final table heads-up showdown," Paris adds, "but I will say that the players splashed all their poker chips on the table . . . and someone walked away the big winner."
The Texas Poker Store was founded by Jim and Lynn Paris in 2011. Located in College Station - Bryan, Texas, the Texas Poker Store is a fully-stocked online poker store that offers 100 percent secured shopping. It features hundreds of poker supplies from poker cards, to the finest in luxury poker tables, folding poker tables and a variety of poker table tops. It carries poker chips and chip cases, poker novelties and collectibles, poker books and DVDs and the perfect gifts for any game room. You can find the Texas Poker Store's website at http://www.texaspokerstore.com, or visit their blog at http://www.texaspokerstoreblog.com Follow them on Twitter and keep up with them on FaceBook and you can even pin us on Pinterest.
Jim Paris
Chief Dealer
Texas Poker Store
979-595-7390