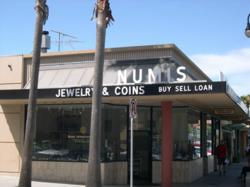 (PRWEB) August 25, 2012
Numis International, an established coin and jewelry shop located in the San Francisco Bay area, has recently been honored by the U.S. Commerce Association (USCA) with the 2012 Best of Millbrae Award in the Coin Dealers category. This marks the fifth consecutive year that Numis International has won this award, which is given to exceptional local businesses across the U.S.
The award from the U.S. Commerce Association underscores Numis International's continuing excellence in the coin dealer business. Based in Millbrae, California, since its founding in 1963, Numis International buys a wide variety of precious and rare metals, including gold, silver, platinum, rare coins, and jewelry. Numis' streamlined, customer-friendly approach to business allows patrons to receive cash for their valuables in a matter of minutes. As full-service pawnbrokers, Numis also grants four-month loans to customers in exchange for their merchandise.
To learn more about Numis International, visit its website at http://www.numisinternational.com, which features an archive of its well-known TV commercials, or call 650-697-6570. The company's business hours are Monday-Friday from 9 a.m. – 6 p.m. and Saturday from 9 a.m. - 2 p.m.
About Numis International
Founded in 1963, Numis International is a family-owned full-service pawnbroker and coin shop in the San Francisco Bay area that specializes in buying gold, silver, and other precious metals. The company was recently named Pawn TV's "Member of the Month."