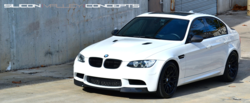 When you stop by our store you can rest easy knowing that our staff is just as knowledgeable as you are
Campbell, California (PRWEB) August 25, 2012
BMW is a German automobile company that is known around the world for being only the highest possible caliber, and when you drive a car like that you need a company that is willing to step up and deliver suitable service. Silicon Valley Concepts is full of dedicated and knowledgeable employees who are just as passionate about BMW automobiles as the clients they serve.
High End Performance Parts for Every Series
Every BMW owner has a different series that speaks to them and SV Concepts supplies the finest replacement and performance parts for every one of them. On top of providing parts, enhancements and modifications for BMW automobiles, SV Concepts also offers a wide array of additional services. Not only are they a CA certified smog facility but they are also capable of offering factory service for all vehicle types as well as fixing wheel alignment, mounting and balancing. They are also happy to provide full installation for every part that they sell, so it's understandable why many consider SV Concepts a one stop shop for all of their BMW needs.
Owned and Operated by BMW Enthusiasts
What separates SV Concepts from their competition is the passion behind the counter and in the shop. Mike Lomas is not just the president of SV Concepts, like the other employees he's also an avid BMW enthusiast. "We strive to offer the best service we can," Lomas stated, "when you stop by our store you can rest easy knowing that our staff is just as knowledgeable as you are." SV Concepts also participates whenever possible in California events and shows and goes out of their way to sponsor several automotive forums so that they can stay active in their community.
All the Top of the Line Brands You Expect
It doesn't matter if you're looking for top performance, just trying to add a little style to your vehicle or in the market for a standard replacement piece, SV Concepts provides any part needed and only uses the top brands. There is no need to worry about cheap parts or having to deal with shoddy performance, when you shop at SV Concepts you are getting the best enhancements at an affordable price.
ABOUT SILICON VALLEY CONCEPTS
Silicon Valley Concepts is the web's premiere retailer for high end BMW aftermarket parts, enhancements, and modifications. SV Concepts is proud to provide our customers with the finest in upgrades and top tier service for your vehicle. Whether you are looking for subtle upgrades, planning to build a show stopper, or just need to keep your vehicle running smoothly, we are here to help – visit SV Concepts today at http://sv-concepts.com.