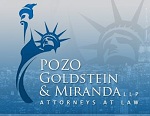 Miami, FL (PRWEB) August 24, 2012
The 6th annual reader's choice edition of the Weston Gazette voted Steve Goldstein as "Best Attorney" of 2012. Mr. Goldstein is proud of his reputation as a high-quality attorney in the Miami area where practices law at Pozo Goldstein & Miranda, LLP. As a former trial attorney for the former Immigration and Naturalization Service, Mr. Goldstein is well-versed immigration law. He was one of the few attorneys selected by the United States Attorney General to be part of the Attorney General's Honors Program. Additionally, he served as a prosecutor for the Office of Chief Counsel, Immigration and Customs Enforcement (ICE).
With a background in prosecution, Mr. Goldstein is familiar with both sides of immigration law and uses his past legal experience to the advantage of his clients in the courtroom today. Before his time as a lawyer, he was Captain of Police for the Amtrak Police Department in New York City, giving him the unique qualifications to serve as legal advocate for clients in Criminal and Immigration Courts today. As a former law enforcement officer and a prosecution attorney, he is vastly familiar with criminal and immigration legal fields. Today, Mr. Goldstein is a member of the American Immigration Lawyers Association (AILA), where he has helped change ICE policies while serving on various committees.
Mr. Goldstein has helped numerous people in Immigration Courts. He has defended individuals facing deportation throughout the United States. Additionally, he has lectured at the Miami-Dade Public Defender's Office. As a lecturer, he has educated other attorneys in matters related to non-citizenship representation and deportation. He is admitted to practice in the U.S. District Court Southern District of Florida and the U.S. Court of Appeals 11th Circuit. With his unique legal background and devotion to excellence as a criminal and immigration attorney, Mr. Goldstein is a qualified expert in court proceedings. To learn more, visit the firm's website at http://www.PozoGoldstein.com.