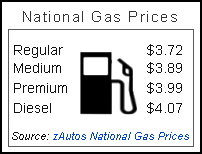 The innovative tool quickly directs consumers to the best gas prices
Irvine, Calif (PRWEB) August 26, 2012
The innovative tool quickly directs consumers to the best gas prices with the auto-locate feature or after a driver enters in a desired zip code. Drivers will find a list of all nearby gas stations, sorted by those offering the lowest gas prices at the top and those offering the highest prices at the bottom. The Portal also provides a map of each gas station location for added convenience.
Drivers heading on longer trips will find the tool particularly useful because it allows them to compare gas prices from state to state or city to city. Users can also search for gas prices in their county for a complete list of the cities that offer the lowest and highest average gas prices in that area.
The Gas Prices Portal also tracks current trends in gas prices nationwide. On the Portal, consumers will find a graph showing the average gas prices around the nation for the last 15 days. From the front page, site users can also navigate to the columns on the right to easily find local, city, county, and state gas price pages. All pages of the Portal monitor the average prices for regular, midgrade, premium, and diesel fuel.
Gas prices have been changing rapidly and are only expected to get more unpredictable. In the past few months, gas prices have remained at especially high levels, making it more important than ever for drivers to search for the best available prices. Consumers can visit the "Gas Prices" tab on the front page of zAutos.com to access the invaluable tool. It is also available via any smartphone on the zAutos mobile website.
Along with helping drivers save money on gas, zAutos.com also provides a number of innovative tools to aid users in finding a new car. The automotive research website provides thousands of car reviews, over 4,000 informative car videos, 10,000 vehicle eBrochures, and dealer quotes. By offering these resources, as well as by providing consumers with the latest automotive news, zAutos.com has become a leading provider of auto information on the web.