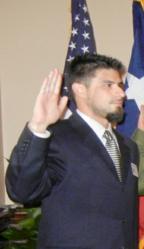 HOUSTON, TEXAS (PRWEB) August 25, 2012
Security America Mortgage, Inc. is proud to announce the acceptance of Steve Otero, Security America's Public Relations Director, as the Vice President of Public Relations for The Association of the United States Army, Houston Sub-Chapter, at a dinner event held at Maggianno's Restaurant, Houston, Tx, Aug. 21.
The Association of the United States Army (AUSA) is a private, non-profit educational organization that supports America's Army - Active, National Guard, Reserve, Civilians, Retirees, Government Civilians, Wounded Warriors, Veterans, and family members. AUSA provides numerous Professional Development Opportunities at a variety of events both local and national. The organization also offer educational seminars for Veterans buying a home using VA home loan benefits.
Three new members of the Houston Sub-Chapter Executive Committee were installed to serve for a two-year term at a called general membership meeting.
Steve Otero – Vice President of Public Relations, Rick Wade – Vice President of Corporate Membership, and Liza Garza – Secretary, were administered the oath of office by Stan Lenox, AUSA Texas Capital Area Chapter President.
Prior to administering the oath of office Lenox stated, "This is a great day for the Houston Sub-Chapter and I am very honored to install these new Executive Committee Members who have been unanimously approved by our Executive Committee in Austin. What is taking place here today will put this sub-chapter one step closer to becoming a stand-alone AUSA chapter in Houston. I look forward to working with each of you as you carry out your duties and I know you will do well. I wish you all the best for dynamic success."
AUSA has 125 chapters located worldwide. The organization is also made up entirely of volunteers, all of whom provide recreational and educational opportunities to soldiers and their families. Most importantly, they support our deployed Soldiers and families left behind. AUSA and its' chapters have contributed over $2,000,000 to awards, scholarships, and support of soldier and family programs like housing entitlement for finding a home to buy.
These accomplishments and dedication of to supporting Veteran communities across the globe are core components as to why Security America Mortgage, a VA specialty lender, is proud to have one of its strategic level staff members, serve Veterans through the AUSA's executive team.
"It is my distinct pleasure and an honor to serve as an executive within an organization like the AUSA. I vow to provide the same level of dedication and service as I did when I was wearing the uniform and engaging the enemy overseas," said Otero.
Steve Otero is a former, United States Air Force, Combat Cameraman and Public Affairs non-commissioned officer, who served tours in both Iraq and Afghanistan, with multiple combat units from various branches of the U.S. government. Otero continues to serve his fellow military service men and women by aiding Security America Mortgage in their mission that continues to place Veterans into affordable Texas homes.
Security America Mortgage's affiliation with AUSA not only allows an Air Force Airman to live the dream of home ownership, career heights, and VA appeasement, but it also affords Mr. Otero the opportunity to serve more Veterans in Texas by helping them finance a home.
By ensuring that the voices of Soldiers, Sailors, Airmen, Marines and their families are heard as far as Capitol Hill in Washington D.C., Security America Mortgage motivates hope in veterans purchasing a home by acting on the belief that 'doing for others through selfless acts of service brings hope for a better tomorrow. Veterans can truly see the benefits they've earned in VA home ownership by securing their mortgage with America's preferred VA lender, Security America Mortgage.