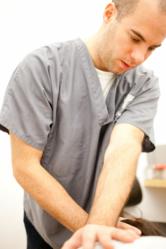 (PRWEB) August 29, 2012
Dr. Steven Shoshany, an expert chiropractor at one of NYC's leading physical rehabilitation facilities, is pleased to offer patients a new development in postural assessment and diagnosis with the introduction of PostureScreen™, a revolutionary computer-based software.
PostureScreen™ allows for immediate and accurate posture analysis that provides clear results in just a few minutes, offering an express preliminary report that will assist in more efficient diagnosis of imbalances or disorders in the spine that may cause postural abnormalities. PostureScreen™ works by capturing and analyzing images of patients and pointing out any problem spots where disparity or lack of equilibrium is detected.
Traditionally, postural assessments need to be extremely detailed and involve thorough examination, lasting anywhere from 30 minutes to over an hour. With the introduction of PostureScreen™ at Dr. Shoshany's Chiropractic and Physical Therapy Practice, patients can expect a comprehensive postural analysis (including exact points and amount of spinal deviation) in less than three minutes without sacrificing quality or detail. PostureScreen™ also produces a graphic and written report that patients are able to take home and examine, helping them take care of their health in between doctor visits.
With the aid of PostureScreen™, the team of expert health professionals at the cutting edge manhattan practice, which includes medical doctors, chiropractors, physical therapists, a pain management specialist, massage therapists, and acupuncturists, can further assist NYC patients in diagnosing ailments in the spine that may cause discomfort, pain or trigger other health conditions.
For further information on Dr. Shoshany's posture correction treatments in NYC, which are now enhanced with the use of PostureScreen™, please visit: http://www.drshoshany.com.
ABOUT DR. STEVEN SHOSHANY, DC:
Regarded as one of Manhattan's top chiropractors, Dr. Steven Shoshany is an internationally-recognized pioneering innovator in the field of spinal decompression, being one of the first chiropractic doctors to offer the revolutionary non-surgical treatment in New York City. Dr. Shoshany is certified in Active Release Techniques (ART) and has been successfully practicing in the downtown Manhattan area since 1999. Dr. Shoshany has been featured as an expert in several publications and television shows, including CBS This Morning, NBC's Today, and The Dr. Oz Show.