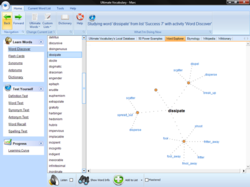 "Vocabulary development is achieved by combining word history, encyclopedia information, detailed etymology, images, and usage examples,"
New York City, NY (PRWEB) August 27, 2012
Vocabulary development at elementary and middle grade levels aims to increase both the breadth and depth of student's vocabularies, and therefore their writing and communication skills. Students should have both working knowledge and contextual knowledge of words. Through vocabulary instruction, students can acquire deep knowledge and understanding of words. This knowledge can then be applied to real-life situations.
A recent article published by the University System of Georgia Reading Consortium outlines seven guidelines for vocabulary development in young learners:

Teaching vocabulary in context
Emphasizing the role of students in vocabulary improvement
Providing tools for students to expand their vocabulary independently
Repeated exposure to new words
Stimulating student interest in vocabulary
Creating a language-rich environment
Encouraging students to read widely.
The article identifies the use of "concept cards" as one of the best strategies in vocabulary instruction. Concept cards are flash cards that contain more than just the definition of the word. The cards combine definitions, examples, antonyms, synonyms, pictures, and references enabling young learners to acquire deep knowledge of the words.
"Vocabulary development is achieved by combining word history, encyclopedia information, detailed etymology, images, and usage examples," explains Marc Slater, the Managing Director behind Ultimate Vocabulary, the vocabulary software developed by eReflect. "Ultimate Vocabulary provides 6 different tests including word definition, synonyms, antonyms, word recall and spelling tests to improve your vocabulary," he adds.
To ensure deep knowledge of vocabulary in young learners, teachers must research and apply various strategies of vocabulary instruction. The strategies must include more than definitional word knowledge. Parents can use Ultimate Vocabulary to support their child's vocabulary training at school. It is scientifically designed to improve vocabulary using the multi-strategy format by combining, definitions with word visualizations, usage examples, synonyms, antonyms, images, rhymes, and excerpts from encyclopedias, journals and religious texts. One notable feature of the software is the presence of customizable flash cards, allowing users to build their own "concept cards" and maximize their learning opportunities.
For more information on the software's approach to vocabulary improvement, please visit: http://www.ultimatevocabulary.com/
******
About Ultimate Vocabulary™
Ultimate Vocabulary provides a proven and powerful platform, built to improve anyone's vocabulary.
The interactive self-improvement system provides more learning tools than any other program on the market, as well as more information on words.
The Ultimate Vocabulary software provides each and every user with a personal computer tutor. Providing a step-by-step guide to learning a powerful vocabulary, Ultimate Vocabulary is the learning tool everyone can benefit from.
Of course, the software is also backed by eReflect's iron-clad money back guarantee.