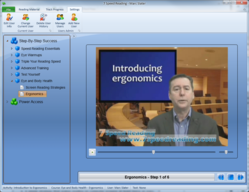 "there will be a breaking point, a time when the library can no longer serve. It is imperative that we support this much-needed institution.
New York City, NY (PRWEB) August 28, 2012
Hit with severe budget cuts over the past years, US libraries are continuing to struggle financially. With ongoing state and federal cuts, libraries across the country are dealing with layoffs, closings, and reductions in hours, services and salaries, furloughs, as well as many other obstacles. Unfortunately when services need to be cut and money saved, libraries are often the first hit.
According to Marc Slater of eReflect, developer of 7 Speed Reading software, "there will be a breaking point, a time when the library can no longer serve. It is imperative that we support this much-needed institution. People need to speak out in support of all types of libraries and the invaluable resource they provide." Part of this support includes outreach to various parts of the community who may not be aware of all of the support a modern library can provide to children and adults.
Despite steep funding cuts, research shows that the demand for US libraries has dramatically increased since the recent recession. With free access to books, e-books, magazines, computers, the internet, DVDs, and career and business training and resources, more and more people are looking toward the library. And to keep up with the needs of patrons, US libraries have begun to use a wide variety of new technology and ideas to better serve the community.
Many libraries have book clubs and reading groups that promote discussion about and love of books on a wide range of topics. Helping someone to learn to love to read is the first step to improving their reading skills and increase reading speed, and the better those reading skills are - for adults as well as children - the more people will be inclined to read, and therefore use and support their local libraries. The goal of eReflect's 7 Speed Reading system is to help people develop their reading skills so that they will find reading enjoyable and easy, providing the impetus for exploration into different areas of literature. This software and other technology can be an integral part of library resource development to gain the interest and support of the community as a whole.
To find out more on how the 7 Speed Reading™ system can help, please visit: http://www.7speedreading.com
******
About 7 Speed Reading™
7 Speed Reading is the only modern speed reading software that uses the latest technology to produce superior results.
The software provides its users with a new way to master speed reading that guarantees three times the reading speed along with improved memory and comprehension.
The software is poised as the most comprehensive speed reading system anywhere. It contains seven learning strategies, fifteen software activities, video training, advanced tracking capabilities and many more exciting features.