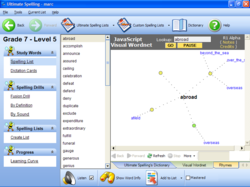 Some learners will lag behind in spelling and vocabulary not because they are unintelligent or unambitious, but because they require a different educational approach."
New York City, NY (PRWEB) August 29, 2012
SqoolTechs, LLC, a Missouri based educational technology company, is currently organizing a seminar on the use of digital technology in teaching vocabulary and spelling. The November seminar is part of an ongoing series of seminars dubbed "Professional Development for Effective Technology Use." This series of seminars is targeting teachers, instructional technologists, and curriculum leaders. Through the sessions, SqoolTechs aims to provide quality professional development through the use of current research. Attendees will learn practical pedagogical strategies and techniques for immediate implementation. The seminar's attendees will not need to have any special computer skills; in fact, SqoolTechs has stated that anyone who can browse the internet will do just fine in these seminars.
Research has shown that in order to successfully teach spelling and vocabulary, instructors must:

Apply a multi-sensory approach
Encourage individualized pacing
Use multiple motivational techniques
Provide regular opportunities for self correction and review
Digital resources have been developed to address the above elements of successful vocabulary and spelling instruction. Through its seminars, SqoolTechs seeks to breathe new life into traditional vocabulary and spelling instruction, which so far generally only utilizes paper and pencil. Graduate credit from Lindenwood University will be offered to attendees of the seminar.
Showing his support for this event, Marc Slater, the creator of Ultimate Spelling, says, "Traditional methods of teaching vocabulary and spelling do not work on all learners. Some learners will lag behind in spelling and vocabulary not because they are unintelligent or unambitious, but because they require a different educational approach." Therefore, since spelling and vocabulary are essential to comprehension, teachers and other instructors should embrace digital technology to provide the widest possible range of choices for their students.
To find out more and get on the road to better spelling by next week, please visit: http://www.ultimatespelling.com.
******
About Ultimate Spelling™
Ultimate Spelling provides a modern and easy to use spelling software that has been designed with one goal in mind – making children WANT to learn.
It is a fast and easy way to master even the most complicated spelling, without the need to write long lists or complete boring tests.
In fact, Ultimate Spelling provides more than just spelling help. It is a complete educational resource that boosts all level of a child's literacy.
Containing a personal computer tutor, Ultimate Spelling is the most realistic step-by-step guide to flawless spelling ability.