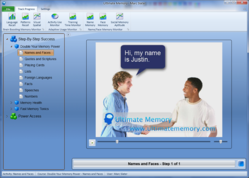 People need to take care of their brains the same way they would take care of any other part of their bodies...Memory champions should serve as great role models to us all."
New York City, NY (PRWEB) August 30, 2012
These trained memory champions are ideal role models for all who aspire to better ways of using their brains and memories and improving their health and well-being.
While many people have the belief that a person is either born with a good memory or not, this is actually not the case. Poor memory often is based simply on a lack of training. As with any other skill, memory can be and should be developed, trained, and practiced.
The trained mental athletes who participate in the World Memory Championship use visualization, mental "maps," and similar memory techniques to remember information. This regular practice, using exercises and strategies that anyone can use and apply to improve memory, stimulates their brains to further growth. Many people who use the techniques for both competition training and regular memory improvement notice an overall increase in their mental skills. This is because by training the brain and improving memory, a person's hippocampus gets stronger and brain growth can be expected, according to many research studies. This growth provides numerous health benefits, and serves as preventive care for Alzheimer's, dementia, and other similar diseases that affect the brain and memory.
According to Marc Slater of Ultimate Memory, "People need to take care of their brains the same way they would take care of any other part of their bodies. We need them to be strong to ward off and minimize the potential for future diseases. Memory champions should serve as great role models to us all."
Developed in 1991, the sport of memory competition is now practiced in over 50 countries around the world. The World Memory Sports Council is the governing body for the sport and ensures that the ten disciplines to memory are followed. Competitors have to memorize as much as they can within a specified time period, using techniques like visualization, mnemonics, and pattern matching, all of which Ultimate Memory software provides and promotes to encourage everyone to do all they can to improve memory, even if they're not in a competition.
For more information, please visit: http://www.ultimatememory.com
******
About Ultimate Memory™
Ultimate Memory™ is the market's leading memory improvement software package.
Scientifically proven to improve memory with as little as ten minute's user per day, Ultimate Memory™ is also backed by an iron-clad guarantee.
Containing many innovative strategies, tutorials, tips and exercises, users benefit from a myriad of varied ways to learn.