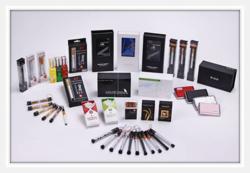 KIMREE will adhere to crack down on counterfeit products.
(PRWEB) August 26, 2012
As people's awareness of health increases and more countries carry out smoke-free policies, electronic cigarette sell quite hot. But the electronic cigarette market is full of counterfeit and shoddy products. What people should pay attention to is that many unscrupulous businesses intentionally improve or lower the price to deceive consumers.
"For example, as a big brand-name electronic cigarette OEM manufacturer, KIMREE has been the leader of the industry for a long period. However, a person of high position has been always liable to be attacked. Recently, several KIMREE-designed products are imitated by the counterparts. What's more, some companies cheat consumers under the banner of the name of KIMREE." Said James who is a senior researcher of IECMA.
On Aug.24, 2012, KIMREE has published an official statement on its website kimree.com. The statement announces that there is only one KIMREE in the world. "The electronic cigarette brands should be careful to recognize KIMREE's trademark when choosing electronic cigarette OEM manufacturers." Said Andre, the sales director of KIMREE.