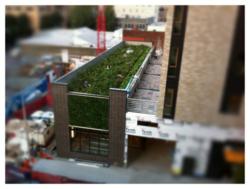 The living wall is an integral part of the LEED Platinum Apartments that provide a tangible example of the green technologies that are used throughout the building
Portland, OR (PRWEB) August 26, 2012
GSky's newest Green Wall certainly is impressive. The Pro Wall Exterior Green Wall was installed in Portland, Oregon's Pearl District and completed on August 9th, 2012.
"Lango and Hansen's design is incredible! It looks like a river and waterfall of plants. We were thrilled to be able to work with Lango Hansen Landscape Architects on another project. The first Green Wall we did with them was Hotel Modera, which has become a landmark in downtown Portland, I expect the The Janey will become a landmark for the Pearl District as well," Chad Sichello, GSky President said.
The new Green Wall is meant to be a vibrant living space for all those that inhabit The Janey, along with all those who view it from afar. With a lower terrace that overflows with a living fern garden, combined with 2 eco-roofs, it looks as though a living tapestry is growing from the Pearl District Condos.
"The living wall is an integral part of the LEED Platinum Apartments that provide a tangible example of the green technologies that are used throughout the building," Kurt Lango, Landscape Architect and Designer said. "We were so pleased to collaborate with GSky on another successful green wall project," Lango adds.
This is not the first project that GSky has completed in correlation with Lango Hansen Landscape Architects and is GSky's fourth Green Wall installed in Portland.
For photos of the green wall installation, please visit http://www.gsky.com/projects/the-janey
GSky Plant Systems, Inc. is the leading provider of indoor and outdoor vertical living garden systems in North America. Green Wall products include the Pro Wall System, Basic Wall System and Versa Wall System. GSky's services include green wall consulting and remote monitoring of installed walls.
GSky walls can be seen at Microsoft headquarters, West Elm by William Sonoma in Beverly Hills, Ca. Starwood Hotels, Whole Foods Market, The National Geographic Channel headquarters, Vancouver (B.C) Airport, Duke University, Longwood Gardens in Philadelphia and The Waldorf Astoria, Park City Utah.