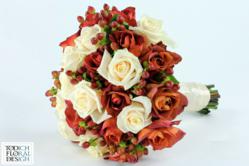 (PRWEB UK) 29 August 2012
Todich Floral Design are proud to announce that their autumn wedding bookings are going through the roof! With frequent promotional offers and free consultations; anyone who joins in can save money! The London wedding florist has recently noticed a trend towards more autumn weddings and are pleased to announce a new range of floral designs for the new season.
Todich Floral Design states that traditionally brides used to go for summer sunshine on their special day; but now they are finding that there has recently been a move towards the cheaper-to-book slots later in the year.
It seems that, as a result of the busy London 2012 events and incessant rain that many couples have started to "think outside the box" and are planning to marry in September or October, extending the busy wedding season well into the autumn months. Head florist Kalina Lokinska' says that 'Choosing to have a wedding in the autumn season gives a whole new choice of variety for brides bouquets and decorations. The new seasons means that new colours and flowers are available and special decorations such as autumn leaves, fruits and berries can add a sense of opulence to table arrangements.' Todich Floral Design has a special autumn selection which includes a colour palette of warmer tones and suits many styles.
"This year has seen a big increase in autumn weddings, and our florists have come up with a range of new designs to match this trend," says Todd Z. Todic, MD of Todich Floral Design. "Couples can get a different look from the pastels of summer and put some colour into the picture."
The florist has noticed that Orchids have become cheaper and more readily available at this time of year; the company's autumn portfolio includes cymbidium orchids, amaryllis and other flowering bulbs which are all now available to order on their online catalogue. Deep russet red, orange and gold's are the colours of choice when against an ivory or cream wedding dress. The theme can be carried through to the church and venue decorations, using harvest fruits, berries, grains and grasses.
To take a look at the new autumn collections then take a look at Todichfloraldesigns website under the wedding and events category.
Todich Floral Design is a London florist who can help you choose the best wedding and events flowers, whether you are looking a bridal bouquet or looking for decoration for a church or civil ceremony, with reception table flowers and garlands. Table or bar arrangements of event flowers, the skilful floristry team can help to produce the most beautiful designs. Todich Floral Design also supplies regular corporate flowers to offices, restaurants and hotels.