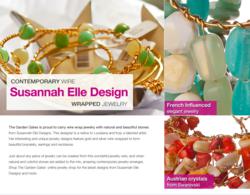 Susannah Elle pieces are so unique, there is something for everyone. Beth Harris, Cofounder
Metairie, LA (PRWEB) August 28, 2012
Adorned with crystals and semi-precious stones, the wide cuff bracelet from Susannah Elle Designs is a fun, colorful piece of jewelry to wear. It's so versatile - it comes in aqua, coral or white to match favorite outfits or create new ones. Each piece of wire wrap jewelry is made using non-tarnishing gold filled or sterling silver wire for a long lasting look. Unique combinations of stones including pearls and glass beads adds to an eclectic yet sophisticated look.
Susannah Elle also designs rings, necklaces and bangle bracelets, and she is well known for her earring designs as well. Each piece of jewelry is made of wrapped wire, hammered metal or both and uses the designer's unique stone combination to make each piece special and unlike any other.
The designer who shares her name with her company, Susannah Elle, is a creative Southern woman who takes her inspiration from growing up in the South and her everyday life. As a wife, mother and working woman, she create jewelry that busy woman can throw on to instantly add life to any outfit. These unique pieces come in styles for all women and all looks.
TheGardenGates.com features a a wide range of jewelry designers and styles for the modern woman. With 15 different brands of jewelry, The Garden Gates brings to you artisan makers and designers as well as red carpet favorites and show stoppers.
TheGardenGates.com is a lifestyle boutique specializing in home and garden decor as well as womens' jewelry, clothing and accessories. Explore the collections from The Garden Gates and open a world of lasting style for everyday life.
About The Garden Gates
Founded by Jacqueline Elizabeth Kendall-Harris and Chad Harris in 1999. Jacqueline plays an instrumental role in product development, interior design and the developing the core principles of The Garden Gates lifestyle. Chad plays an instrumental role in the creativity of the brand, marketing and technology of the business.