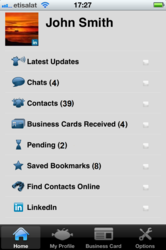 Many of us separate email addresses for business and personal contacts. Instant Messengers should also be separated to help maintain your professional image.
London, England, UK (PRWEB) August 27, 2012
Bluefree Instant Messenger designed for LinkedIn™ launches for iPhone. The instant messenger has quietly been growing in South Africa and the Middle-east where almost 280,000 are using the Blackberry version of the app. A unique instant messenger that connects to LinkedIn™ also utilises Bluetooth to find new business contacts. Designed for the professional business users the way in which it works has been some what of a hit.
Zuber Mohsan, the CEO of Bluefree Messenger, explained, "There are many choices of instant messengers available to smart phone users, Bluefree messenger is designed for professionals, its popular due to its unique method off finding contacts via Bluetooth". Mohsan went on to add "Bluefree is connected to LinkedIn this means users can see other LinkedIn profiles right from the app before adding them as contacts"
LinkedIn has a user base of over 160Million professionals, with Bluefree Messenger these professionals now have a new method of instant communication with their contacts.
Zuber Mohsan created the business instant messenger app with when he realised that Instant messengers are similar to email accounts in that they need to be separated. Mohsan says "Many of us separate email addresses for business and personal contacts. Instant messengers should also be separated to help maintain your professional image. Instant messenger is a growing method of communication. Separating your business contacts from personal ones is a natural evolution". The analogy is straight forward enough to apply to other products for example most people separate their LinkedIn contacts from Facebook. Using Bluefree you can separate professional contacts from other personal messengers like Whatsapp.
Bluefree uses patent pending Bluetooth technology to find new contacts that are around you, quickly and effortlessly. Once a fellow Bluefree user is detected, their business card will appear inside your Bluefree app. It works without interruption safely gathering business cards. Simply by walking past a person, you will be able to receive their business card. No need to stop, say or do anything. Later you can then view business cards details: phone number, email address, website including a photo and LinkedIn profile. If you feel the person will be of value to your business, simply send them an invitation to join your contact list, where you can chat via the inbuilt messenger over Wifi or 3g data package. The app also supports adding contacts via email address and BF ID.
Setting up Bluefree is pretty easy and takes a few moments. Connect to LinkedIn™ during the signup process and then copy the BF ID the (unique identifier) into your phone name, turn on your Bluetooth and then your ready to let your phone do the work. You can also browse online contacts and add people who have recently been online or search by industry or profession.
Zuber Mohsan added "The next development in Bluefree Messenger is to make it find jobs not just professionals to do business with, but an actual career progression"
Bluefree Messenger is a free download from Apples Appstore or Blackberry Appworld visit http://www.bfm.im for download links. Android version is in Alpha testing.
About
Bluefree Messenger is owned by Sandcastles Investment Group Limited based in the British Virgin Islands with offices in Dubai. Bluefree Messenger is not endorsed or developed by LinkedIn Corporation. All copyright and trademarks are the property if their respective owners.
For further information, please contact:
Ian Billibang
Public Relations Officer
Bluefree Messenger
Tel 0097150 451 4676
Email info(at)bfm(dot)im
Website http://www.bfm.im
Zuber Mohsan
CEO
Bluefree Messenger
Tel 0097155 886 5076
Email zuber(at)bfm(dot)im
Website http://www.bfm.im