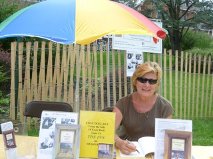 "The Internet has so much to offer. You can do e-books, digital audiobooks, and various kinds of marketing."
Massapequa Park, N.Y. (PRWEB) August 28, 2012
Frank's mystery/adventure books, Annie Tillery Mysteries, are out in paperback, in every e-book format with a company that distributes worldwide, First Edition Design, as well as on Amazon, and featured in the social media like facebook and Youtube. With the help of blog radio and local access TV, she gets to advertise the girl detective mysteries often. With a website that offers lesson plans to teachers based on her books, which feature forensic science and history, this YA author has a readership just waiting for the next book in the series.
To solve the problem of offering and distributing her e-books for all readers and electronic devices, she turned to First Edition Design Publishing, a company that converts the manuscript, distributes it world-wide and maintains the electronic formats. The company also offers marketing tips on how to get closer to top of that Google search page. Frank considers this the first step in her marketing plan, and expects to see sales rise.
Frank's journey through this maze of opportunities is the back bone of her marketing plan, a plan she is willing to share with fellow authors. The research she did to implement this plan revolves around the information gleaned from colleagues in writers' groups she belongs to, as well as from authors she interviews on her local access TV show.
Social media, e-books and audiobooks circumvent the need to find a traditional agent and publisher. For today's reader, the explosion of free and cheap goodies on the Internet e-tail sites includes a wealth of downloadable books, from new and hungry authors. This makes availablilty of books in digital format a must.
Frank's journey has been an enlightening and sometimes frustrating adventure through the ever-expanding offerings on the Net. In an attempt to make sense of it all mystery author, Frank, works with another author to present a coherent plan for those who wish to make their story into a book.
About Linda Maria Frank: After a life-long career of teaching, Frank turned her knowledge of forensic science into an engaging and fun mystery series for girls of all ages. She resides on Long Island, New York. The first two books of the Annie Tillery Mysteries are "The Madonna Ghost" and "Girl with Pencil, Drawing". Frank promotes her books by doing programs about mystery writing, self-publishing, and the world of marketing. She does fundraising events using her adventures in authorship as a draw. Frank also is the producer of "The Writer's Dream", a local access TV show, featuring interviews with authors. The show can be seen on facebook and Youtube.