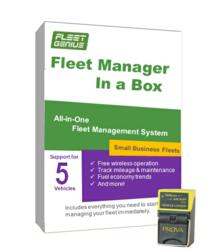 These seminars have been designed to show small and medium businesses and local governments that fleet management can be effective and affordable.
Carbondale, PA (PRWEB) August 27, 2012
Prova Systems, a leading developer of wireless OBD-2 VHM diagnostic monitors and trip loggers for vehicle fleet management systems, will be presenting a free Fleet Management Seminar Series in Northeastern Pennsylvania this Fall. The announcement was made today by Prova Systems.
Prova's Fleet Genius™ seminars focus on fleet technology options available to today's fleet managers. It offers insights into the benefits of both OBD-2 diagnostics-based fleet management, and traditional GPS / AVL fleet management technologies. The seminar series will explore how these technologies overlap, and their differences. They will also as offer deployment scenarios for both solutions and combined OBD-2 and GPS location-based tracking.
The seminar also covers the issues surrounding fleet insurance rate reduction opportunities and distracted driver management and tracking which is an area of growing interest and concern for fleets of employer-owned vehicles and employee-owned used for business purposes.
The seminar features several Prova Systems OBD-2 powered fleet management hardware system options with discussions of Prova Systems partner products, including:
Prova's Fleet Genius™ and Fleet Manager in a Box™ cloud-based fleet management and fleet analytics platform for small and medium enterprise (SME) fleets.
FleetCommander, created by Agile Access Control, Inc., is a powerful web-based fleet and motor pool solution that automates all aspects of fleet management, including: motor pool, maintenance and parts, assigned vehicles, fuel, risk and accident management, key control, and more.
Zoomsafer's Fleetsafer™ Vision is the first distracted driving solution to work with all types of mobile phones, including iPhone -- combining telematics data from Prova Systems and other providers with details of employee mobile phone use, FleetSafer Vision offers enterprises large and small a tool to monitor and report on the risky behavior associated with phone use while driving.
Who should attend?

Fleet managers who are interested in automating their existing fleet management operations and who also require rich vehicle diagnostic data pulled from the engine or fleet managers looking to reduce the monthly operating costs of their existing fleet management system.
Fleet insurance managers and risk assessment managers interested in solutions to reduce fleet insurance costs and manage their risks of employee distracted driving incidents.
Fleet service organizations looking for hardware and software to build a managed service offering for their fleet and consumer customers. This is applicable to single shop operations and regional or national fleet service groups.
Fleet Management system resellers looking for OBD-2 fleet management systems to offer to their SME and larger enterprise and government customers.
The first seminars are scheduled for Northeastern PA:
Scranton, PA - 12 September 2012, 9am-11am
Hazleton, PA - 20 September 2012, 9am-11am
Wilkes-Barre, PA - 26 September 2012, 9am-11am
Bethlehem, PA - 10 October 2012, 9am-11am
All seminars are free of charge and offer a complimentary breakfast of pastries and beverages.
Register at http://www.fleet-genius.com, to request a webinar, or to be alerted to new seminars as they are scheduled in your area.
ABOUT PROVA SYSTEMS: Prova Systems designs and manufactures wireless vehicle diagnostics systems for use in fleet management, drive-by emissions testing, secure access controls, usage based insurance and distrected driver programs and other critical commercial applications. Prova's line of wireless OBD-2 vehicle monitors, wireless sensors and analysis products capture real-time operational diagnostics for use in its own Fleet Genius™ SAAS application and 3rd party products. The company focuses on OEM and aftermarket technologies which make consumer and commercial vehicles safer, more fuel efficient and greener. The company is based in Carbondale, PA and sells its products directly and through resellers in the USA and internationally. http://www.provasys.com http://www.fleet-genius.com
ABOUT AGILE ACCESS CONTROL, INC.: FleetCommander creator Agile Access Control, Inc. is a technology company headquartered in Chantilly, Va., which serves fleet and motor pool managers in the university, government, utility and commercial sectors. Agile's FleetCommander software is a powerful, highly configurable, web-based application that streamlines the use of vehicles through easy-to-use software, and presents real-time data in the form of intuitive dashboards, graphs, gauges, online forms, and a wide variety of reports. Resulting in lower vehicle and personnel costs and higher customer satisfaction, FleetCommander can be used as a stand-alone, customized fleet management system or integrated with an organization's existing fleet systems. For more information, contact Agile Access Control, Inc. at 408-213-9555 x1, info(at)agilefleet(dot)com or visit http://www.agilefleet.com.
ABOUT ZOOMSAFER: ZoomSafer is a leading provider of enterprise software to prevent distracted driving. FleetSafer® solutions enable employers to measure, manage and enforce cell phone usage policies to reduce crashes, risk, liability and expense. For more information, please visit http://www.zoomsafer.com