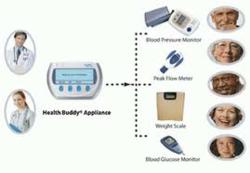 No one provides in-home medical technology solutions like Automated Security Alert; no one
Pittsburgh, PA (PRWEB) August 28, 2012
For patients with chronic health conditions, constantly monitoring their disease can be a difficult challenge. The Pittsburgh-based health care company Automated Security Alert is now giving patients the option to be able to have their day-to-day monitoring done from home while allowing their clients to remain in close contact with their doctors and caregivers while cutting down on in-office visits and helping to reduce hospital re-admissions.
Telehealth is a system that offers different devices to monitor many different conditions, including Congestive Heart Failure (CHF), Chronic Obstructive Pulmonary Disease (COPD), Diabetes, Asthma, Cancer, Coronary Artery Disease (CAD), Chronic pain, Depression, Hypertension, and Pediatric Asthma, among others. Working with specialty monitors such as the Health Buddy, blood glucose meters, blood pressure monitors, pulse oximeters, and weight scales, medical information can be obtained through monitoring a patient's vital signs and asking a series of questions, and then report the results to the patient's doctor and care team. The Telehealth system can make doctors aware of a patient's shift in health before the patient may even realize that there is a problem. Although the Telehealth system is not a replacement for the care of a medical doctor, the system can be an excellent way to promote good health.
For nearly twenty-five years Automated Security Alert, Inc. has been providing medical products and telehealth services to help individuals remain independent. The company also offers solutions for family members to help care for aging, injured, and ill loved ones in their own homes. The company uses the newest technology and matchless customer service to achieve their mission of the giving their clients the best options for an independent lifestyle.
For further information, please contact Matthew Couillard at 1.800.338.7114.