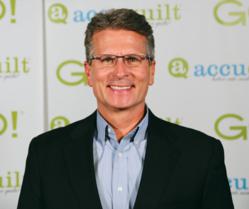 I'm proud and honored to be taking over for Linda, and I am looking forward to working with the other members of the board to keep the Quilt Alliance moving forward into the future. -Steve Nabity
Omaha, NE (PRWEB) August 27, 2012
AccuQuilt, international distributor of fabric cutting solutions for quilting and fabric crafts, is proud to announce a passing of the torch. Longtime Quilt Alliance board member and AccuQuilt Global Sales Manager, Linda Pumphrey, retired from her board position and Steve Nabity, AccuQuilt Chief Energizing Officer, joined the prestigious organization as its newest board member and Leadership Team Volunteer.
Nabity began his board membership on August 3rd, 2012 at a fundraising event celebrating Pumphrey's longtime dedication as a Quilt Alliance volunteer and quilt history champion. "Quilters Take Omaha" was a benefit event sponsored by AccuQuilt and was billed as, "An evening of sweets, quilts, and sweet quilt stories."
"I am incredibly humbled to be honored by the Alliance". "Supporting the mission of the Alliance has been one of the most inspirational highlights of my quilting experience. I feel privileged to have been part of preserving the history of great quiltmakers for the last 6 years," Pumphrey said.
The event was hosted at the AccuQuilt Headquarters in Omaha, Nebraska. Guests enjoyed wine, coffee, desert, and a silent art auction as well as a special exhibition of Linda Pumphrey's private quilt collection. This event also offered the perfect opportunity to hold a Quilt Alliance board meeting, welcoming Nabity into the fold.
Other highlights of "Quilters Take Omaha" included Pumphrey's interview conducted by founding Alliance board member Merikay Waldvogel for the Quilter's S.O.S. – Save Our Stories Project (Q.S.O.S.).This is a Quilt Alliance grassroots oral history project that captures the stories of quiltmakers from the United States and beyond. Also featured was a new Alliance oral history initiative, "Go Tell It at the Quilt Show," which was demonstrated by several attendees as well as Steve Nabity. Nabity shared a deeply personal story of a quilt made for his daughter Cara, who passed away of a rare, lifelong heart condition in 2003.
As an official board member of the Quilt Alliance, Steve Nabity joins a dynamic group that includes quiltmakers, historians, archivists, media specialists, industry representatives, as well as academic and museum professionals.
"I'm proud and honored to be taking over for Linda." said Nabity. "Her time on the board was outstanding and her dedication was inspiring. It will be a challenge to fill her shoes but it's a commitment that I am passionate about, and I am looking forward to working with the other members of the board to keep the Quilt Alliance moving forward into the future."
Find more information at http://www.accuquilt.com/press
About the Quilt Alliance:
The nonprofit Quilt Alliance supports and develops projects to document, preserve, and share the history of quilts and quiltmakers. The Alliance brings together groups and individuals from the creative, scholarly, and business worlds of quiltmaking to advance the recognition of quilts and their makers. For more information, visit http://www.QuiltAlliance.org
About AccuQuilt – Better Cuts Make Better Quilts®
Headquartered in Omaha, Neb., AccuQuilt offers quilters, fabric crafters and retailers a premiere line of fabric cutters, dies, quilting patterns and other quilt and fabric cutting solutions that help quilters quickly and accurately cut shapes for quilting and fabric crafts. AccuQuilt also offers quilters a wide variety of rich educational resources to enhance their quilting experiences. Cutting with AccuQuilt® cutters is a natural evolution of fabric cutting methods. "First scissors…then rotary…finally…AccuQuilt®" for fast, easy, accurate fabric cutting. Visit AccuQuilt online at http://www.accuquilt.com